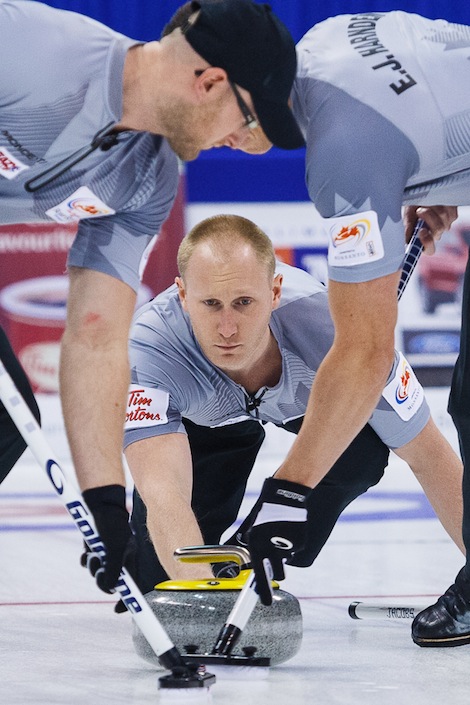 Brad Jacobs and the rest of his Team Canada mates seemed to find their groove on Wednesday.
After going 1-2 through the opening three draws at the 2014 Winter Olympics in Sochi, Russia, Jacobs picked up a 7-4 win over the host-Russians on Wednesday to improve to 2-2 in the young tournament.
Jacobs took a 2-1 lead through three ends and the two teams sat tied at two heading into the fifth end where Jacobs would score four after a takeout on his final stone of the end to go up 6-2.
The teams would blank the next two end before Russia would cut the lead two a pair after a nice hit-and-stick by Russian lead Alexey Stukalskiy, who shoots skip stones for Russia.
Jacobs would add a single pointing the ninth end before running the Russians out of rocks in the tenth end to complete the victory.
The win leaves the Jacobs rink at 2-2 heading into the fourth day of the curling event on Thursday. Things don't get easier for Jacobs, with teammates third Ryan Fry, second E.J. Harnden and lead Ryan Harnden.
They face a 2-2 Denmark team on Thursday before meeting Norway (3-0) and Great Britain (3-1) the following two days
Jacobs is back in action on Thursday morning at 5 a.m. ET when they face Denmark's Rasmus Stjerne.
In the early games on Wednesday, USA beat Denmark 9-5, China beat Switzerland 5-4 and Norway beat Germany 8-5.
The other evening games saw China improve to 4-0 with an 11-7 win over Germany, Great Britain doubled up Switzerland 4-2 and Denmark handed Sweden their first loss of the tournament by an 8-5 score.
On the women's side, Canada's Jennifer Jones beat Great Britain 9-6, improving to 3-0 in the process. Jones faces Denmark and Switzerland on Thursday.
Full Jacobs Schedule
Feb. 10 vs. Germany (W 11-8); vs. Switzerland (L 5-4)
Feb. 11 vs. Sweden (L 7-6)
Feb. 12 vs. Russia (W 7-4)
Feb. 13 vs. Denmark (5 a.m. ET)
Feb. 14 vs. Norway (12 a.m. ET)
Feb. 15 vs. Great Britain (5 a.m. ET)
Feb. 16 vs. USA (12 a.m. ET); vs China (10 a.m. ET)
Feb. 19 Semi-Final (10 a.m. ET)
Feb. 21 Bronze Medal Game (3:30 a.m. ET); Gold Medal Game (8:30 a.m. ET)
Standings
China (Rui Liu): 4-0
Sweden (Niklas Edin): 3-1
Great Britain (David Murdoch): 3-1
Norway (Thomas Ulsrud): 3-0
Canada (Brad Jacobs): 2-2
Denmark (Rasmus Stjerne): 2-2
United States (John Shuster): 1-2
Switzerland (Sven Michel): 1-3
Germany (John Jahr): 0-4
Russia (Andrey Drozdov): 0-4
To read SooToday's live blog of this mornings game, click here
To read SooToday's live blog of this mornings mat