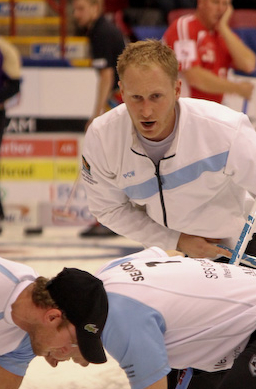 Brad Jacobs picked up another split on Wednesday but will end action on Wednesday at least in a tie for top spot at the 2013 Men's World Curling Championships in Victoria, BC.
The Jacobs rink fell to 6-2 after losing 10-8 to Japan's Yusuke Morozumi in extra ends in the morning draw. The Japanese scored a pair in the 11th end to pick up the win. It also marked the second straight day that the Jacobs rink lost in the morning draw. Just 24 hours earlier, the Canadian entry lost a 6-4 decision to the Czech Republic's Jiri Snitil.
"It's weird that it happens like that," Jacobs told The Canadian Press. "But we were up three hours before the game getting ready for this game. We still came out a little flat and, really, didn't get the results out of my last shots to yield us any success in that game at all.
"The Japanese guys made a lot of shots, but they made a lot of questionable calls in that game. Still, they even got results on those questionable calls."
Canada wrapped up the day with an 8-5 win over Russia's Andrey Drozdov. Jacobs scored a pair in the ninth end to go up 7-5 en route to the win.
With the split, the Canadian team stays in top spot with a 7-2 record heading into the final day of the round robin. Scotland's Thomas Brewster has an opportunity to keep pace with the Jacobs rink as they enter Wednesday's final draw with a 6-2 record. Scotland faces Sweden (Niklas Edin) in the late draw on Wednesday.
Canada wraps up the round robin on Thursday when they face Denmark's Rasmus Stjerne and Sweden's Niklas Edin in the final two round robin draws.