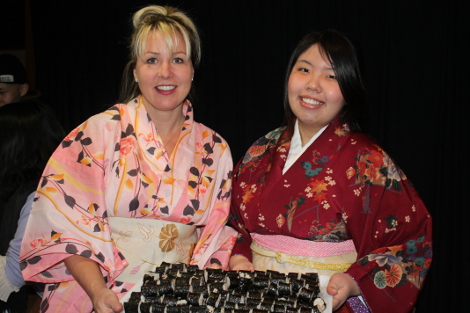 The Japanese students of Algoma University provided a sampling of traditional food and beverages from their homeland, on-stage dancing and karaoke for the public to enjoy at Algoma's Speak Easy lounge Saturday.
Many of the female students wore bright, colourful kimonos.
It was Algoma's sixth annual "J-Night."
Algoma University Student Services Academic Advisor Melissa Ouimette and fourth-year Business Administration student Megumi Matsumoto (pictured) helped organize the event.
Speaking to SooToday.com, Ouimette said: "A group of students from a university in Japan called KSU (Kyoto Sangyo) fly home Sunday and we try to hold J-Night when we have visiting Japanese students."
That particular group of students, unlike the rest of Algoma's Japanese students who are studying here in the long-term, were at the postsecondary institution for three weeks to take in some introductory English language instruction, experience Canadian culture, and even do a bit of community volunteer work.
"I took them all skiing at Searchmont Friday and they were all good, really good," Ouimette smiled.
"Our Japanese students at Algoma are so organized, respectful, they're an amazing group of students who always want to learn something new, learning English and the whole Canadian experience."
Matsumoto came to Canada nearly five years ago from a community named Gumma, north of Tokyo, and expects to graduate from Algoma in the summer.
Matsumoto originally considered studying in the Maritimes, but chose Algoma and hopes to stay in Sault Ste. Marie.
"Sault Ste. Marie reminds me of my hometown, it's small and the people are friendly."
About 200 people attended Saturday's J-Night.
Admission was by donation, with donated funds going to support Algoma Multicultural Students Association (AMSA) cultural events.