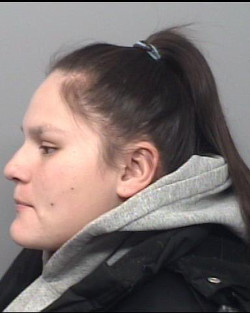 Seven weeks ago, Crime Stoppers started Wanted Wednesday, a sort of wanted poster for the digital age, in which each week a new accused is featured and the public is invited to submit their tips.
How is it working?
So far, police have brought in two of the seven wanted individuals featured on the Crime Stoppers site.
The latest accused to be featured is Cory Georgette Constance Green, 25, (pictured) who is wanted on charges of failing to appear for court, failure to re-attend court and breach of probation.
Below is the latest Wanted Wednesday release, where you'll find a link to the Crime Stoppers site, where all five of the outstanding wanted postings can be found.
*************************
Crime Stoppers and the Sault Ste. Marie Police Service have joined forces to track down Sault Ste. Marie's most wanted criminals.
Today Crime Stoppers released the 7th Wanted Wednesday profile since the program launch on April 9, 2014.
You can view the current Wanted Wednesday profile on the Crime Stoppers website.
If you know where we can find the Wanted Wednesday individual please call the Sault Ste. Marie Police Service at (705) 949-6300 or if you wish to remain anonymous please call Crime Stoppers at (705) 942-7867 or 1-800-222-8477.
You can also submit a webtip via this link.
This is a great opportunity for the community to get involved and help make our city a safer place to live.
For regular updates regarding the Wanted Wednesday please follow Crime Stoppers on Twitter "@SSMCrimeStopper" or on Facebook at "Sault Ste. Marie & Algoma Crime Stoppers."
April 9, 2014 Profile - Captured
April 16, 2014 Profile - Captured
April 23, 2014 Profile - Unsuccessful
April 30, 2014 Profile - Unsuccessful
May 7, 2014 Profile - Unsuccessful
May 14, 2014 Profile - Unsuccessful
May 21, 2014 Profile - Above
*************************