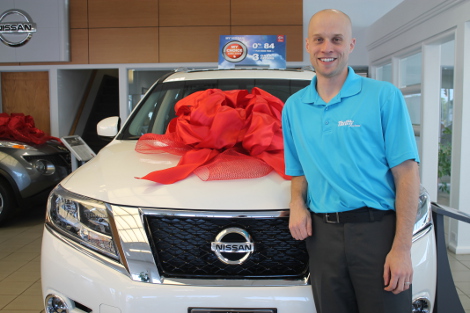 Not everyone in town knows it yet, but the Nissan dealership at 460 Pim Street is under new ownership and has a new name.
The former Cambrian Nissan is now Superior Nissan, owned and operated by Sault Ste. Marie entrepreneur Greg Lefave (pictured).
The Nissan dealership officially became Superior Nissan August 1.
"We were making phone calls to see who is selling (a car dealership) because we want to buy," said Lefave, who is president of the Sault Ste. Marie Auto Group.
The Sault Ste. Marie Auto Group has owned Thrifty Car Rental and Superior Used Cars at 295 Trunk Road since May 2012, and Superior Chrysler Dodge Jeep at 311 Trunk Road since August 2012.
"We were celebrating our second anniversary at Superior Chrysler while celebrating our first day here at Nissan, so that was kind of cool," Lefave said, speaking to SooToday.com.
"The idea right from the start, right from Thrifty, was to get a rental company and start a used car lot, then as things became available to acquire, we would look at acquiring them."
"It just so happened Chrysler became available a lot quicker than what we anticipated, and we took that shot and it ended up working out," Lefave said, adding that buying up groups of dealerships seems to be a trend in the industry.
"Dodge and Chrysler is all about trucks and power, Nissan is more about practicality, efficiency and value…they're very synergistic companies that way."
Lefave said he currently employs about 25 people at Superior Nissan in sales, service and administration.
"I want to grow and create more jobs at Nissan…between Thrifty and Chrysler we've probably created a dozen to 15 new jobs."
"I'm committed to working as hard as I did with Chrysler to grow business and grow opportunities and make the market competitive in Sault Ste. Marie," Lefave said.
"Business is fantastic right now, we're on a massive wave."
Lefave, who will continue to own and operate Thrifty and Superior Chrysler, said all the new Superior Nissan signage should be in place within six months.
Lefave, 32, a married father of four, said Nissan has been a part of his life for years.
"We have a lot of Nissan roots within our business group, other guys in our group already have Nissan stores, and this is the store that I started at when I came back home to the Sault after being out west, so it made it really simple for Nissan to be the next step."
Lefave, a Sault native, left town in 2002 and acquired his experience in vehicle sales and rentals throughout Ontario and western Canada before returning to his hometown.
"The goal was to come home from the get-go," Lefave said.
"I love the city, I adore it and I adore the people…it was always the goal to come back in this type of capacity."