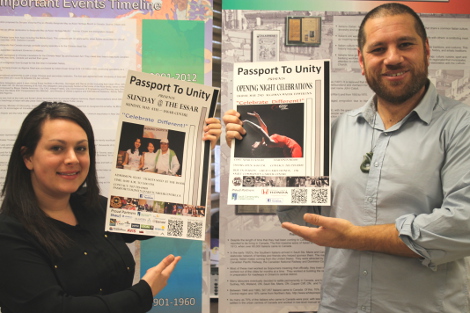 "Three days, six events, four workshops, it's going to be huge!"
That's how Sault Community Career Centre Event Specialist Alisha Rosset describes the upcoming, eighth annual Passport to Unity festival.
The festival, an increasingly popular Sault Ste. Marie celebration of multiculturalism organized by the Sault Community Career Centre, will be held May 2 to 4 at various local venues.
A "Friends of the Festival Jamboree" was held at the Sault Community Career Centre Friday.
Rosset (pictured with Sault Community and Career Centre's Festival Research and Planning Coordinator Duane Moleni), told SooToday.com: "We asked friends and family of Passport to Unity ('friends and family' meaning supporters and media) to come and have a pre-celebration because we wanted them to be the first people to know of everything that's going on at the festival the whole weekend, and many surprises that we've saved up until now."
Rosset said: "We're now the first festival in Sault Ste. Marie to get an app."
Posters for Passport to Unity with a new Android QR code and an iOS QR code, containing information about the festival and its growing list of events, will now be set up at businesses and offices along Queen Street starting this weekend, with a view to putting up as many posters as possible all over town to spread the word.
Rosset and Moleni are pictured with copies of the new posters with the QR codes.
"You can scan the code and you'll get information on everything that's going on, like the Sunday event at the Essar Centre for example, with a list of food vendors, arts vendors, our sponsors…download the app on your phone and you'll know everything about Passport to Unity," Rosset said.
Passport to Unity supporters mingled Friday at the Sault Community Career Centre while Sault folk singer/songwriter/poet Guy Smith entertained.
Moleni then gave guests an idea of just how big Passport to Unity will be this year.
Moleni said the area of Queen Street between Spring Street and March Street will be closed to traffic and open for live performances, food and crafts on the afternoon of May 2.
Art Gabriel's Men's Shop will be turned into a "museum," Moleni said.
Different ethnic groups will be welcome to borrow a mannequin, dress it up in traditional clothing, and accompany it with a written description of the clothing's cultural significance.
Passport to Unity will also feature a performance by JUNO Award-nominated group "A Tribe Called Red," nominated for breakthrough group of the year and for electronic album of the year.
Opening ceremonies, Moleni said, will be held at Algoma's Water Tower Inn and Suites at 7 p.m. May 2, and the evening's highlight is sure to be a performance by well-known Flamenco dancer Maria Osende.
Osende will also be hosting a Basics of Flamenco workshop at Sault College at 1 p.m. Saturday May 3.
Rosset told us organizers anticipate 400 tickets to be sold for the Friday May 2 opening ceremonies at Algoma's Water Tower Inn and Suites, 1,000 tickets for A Tribe Called Red's performance Saturday, May 3 at 8 p.m. at Sault College's Health and Wellness Centre, and approximately 3,500 to 4,000 tickets for the Sunday May 4 festivities at the Essar Centre.
A more complete list of information on Passport to Unity can be found at http://www.saultcareercentre.ca/ptu/