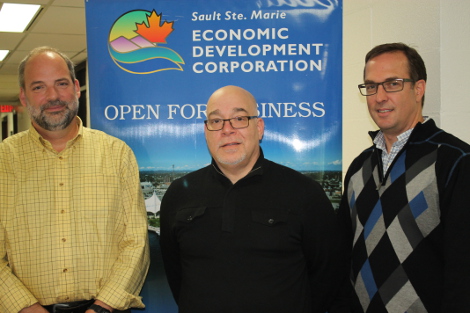 As a newcomer to the Sault Ste. Marie Economic Development Corporation (SSMEDC), Strategic Initiatives Director Dan Hollingsworth (pictured, at far right, with SSMEDC CEO Tom Dodds and Director of Industrial Marketing John Febbraro) recently told SooToday.com: "At any given time I have 25 projects on the go…it's all exciting stuff."
Gone, of course, are the days when a mill, a mine or a factory will set up shop in a community and hire hundreds of people.
Dealing with that reality and diversifying Sault Ste. Marie's economy in many different ways has been, and remains, the SSMEDC's mission.
While the fortunes of traditional, large industrial employers in Sault Ste. Marie (such as Essar Steel Algoma and Tenaris Tubes) remain a priority, and while the SSMEDC aggressively promotes Sault Ste. Marie and its existing lottery and gaming facilities and expertise as a natural fit for private sector partners to work with as OLG undergoes its modernization process, Dodds and his team spoke to SooToday.com about some of the SSMEDC's other activities.
There's money to be made for Sault Ste. Marie companies in the defence sector, for example.
In January 2013, under Canada's Industrial and Regional Benefits (IRB) policy, China Steel received a $1 million contract with a defence contractor.
The SSMEDC's latest newsletter points out that over the next decade, the federal government is expected to spend approximately $30 billion on national defence.
Through the IRB, Northern Ontario firms can take advantage of this opportunity and manufacture hardware and software components to sell to defence contractors.
Several local firms now have, or are in the process of obtaining, their "Controlled Goods" status, which is needed to sell to defence contractors.
Those firms, SSMEDC CEO Tom Dodds told us, include China Steel, Essar Steel Algoma, Rector Machine Works, North Shore Industrial Wheel, Soo Foundry and N-Sci Technologies.
With the SSMEDC's help, Dodds said: "We've got local companies that have clicked on to this, and what we've been doing is bringing in these defence contractors for tours of local companies and they've said what they've seen is pretty impressive."
Work that has been generated through these contracts will help retain and in some cases increase, on a contract-by-contract basis, additional jobs for Sault firms, Dodds said.
Hollingsworth said: "Essar Steel Algoma makes marine plate for shipbuilding in general, and the Canadian Navy is included in that."
"This is another opportunity for local companies to sell their wares, and these are long –term relationships with defense contractors to last 10 to 15 years," Hollingsworth said.
Other local economic development is centred on assisting small to medium sized Sault businesses grow.
With that in mind, the SSMEDC is also in the process of creating a job incubator for the Sault's downtown.
Hollingsworth said: "We've put a plan together, working with the City, NOHFC and FedNor, to look at filling existing available space in the downtown core."
Dodds added: "We've already got that information technology business incubator in the Innovation Centre, and what we're trying to do in the downtown is open space for information technology businesses, not-for profits which address social issues, and home-based businesses which want to go to that next level with a storefront location."
"We'll mentor those businesses to the point where after their third year, they're ready to go it alone, and we want to see a range of goods and services in the downtown core."
In addition, Tourism Sault Ste. Marie, a division of the SSMEDC under the leadership of its Executive Director Ian McMillan, has also performed admirably by bringing tourism dollars to the community, not only through the refurbishment of the Agawa Canyon Tour Train, but also through aggressive marketing of the Sault as an ideal place to hold conventions and sports events.
With the 2014 Ontario Scotties Tournament (held at Soo Curlers earlier this month) already in the books as a sports tourism success, McMillan told us the CCAA National Curling Championships will be held in Sault Ste. Marie March 18 to 22, followed by the U12 Provincial Ringette Championships April 3 to 6, the Atom AA OHF Championships April 11 to 13, the Ontario Chamber of Commerce Annual General Meeting May 1 to 4, the Federation of Northern Ontario Municipalities (FONOM) Annual Conference and General Meeting in early May, and the Air Force Association convention in October.
McMillan told us: "These conventions and sport tournaments will generate an estimated 10,500 visitor days in 2014 and bring in approximately $2 million in direct visitor spending…that's a 20 percent increase in visitor days over 2013."
An online reservation system for individuals and groups, operated by Tourism SSM, is an enormous benefit, McMillan said.
"We really promote Sault Ste. Marie as an ideal place to hold conventions because the area offers a mix of urban and rural, outdoor activities visitors can enjoy all in one day."
"We're also more accessible as a convention site through flights from Porter Airlines and Air Canada, and enthusiastic and dedicated volunteers at these events impress visitors," McMillan said.
Dodds said: "You can do it in a smaller venue with a more community-minded organization and feel to it…if you go to a larger centre, it's 'get in line, you're just a number.'"
"Word of our approach gets out, and attracts other groups and organizations to hold their conventions or sports events here."
McMillan said his team is now working on promoting the area just north of the Sault as a tourist destination through its artistic/historic distinction as "Group of Seven Country."
Dodds said: "Group of Seven country is a national icon in our own backyard…there are people across Canada, wealthy people, who are curious about the art they own, and wish to travel to the very spot where some of the Group did their work."