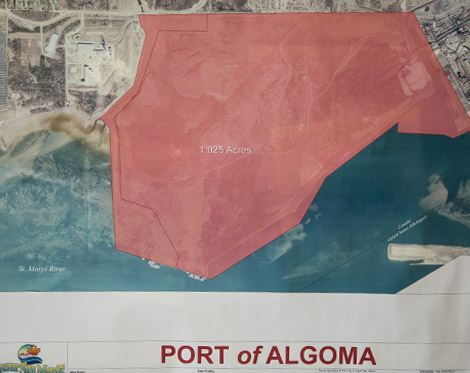 What started off as Essar Steel Algoma needing more dock space has spiralled into a number of possible new opportunities for the Sault, say city officials.

Joe Fratesi, Chief Adminstrative Officer for the city, said during an interview last Friday the initial proposal was for the city to purchase or lease a small 72 acre tract of land from Essar Steel Algoma to develop a small public access port.

Essar Steel, and its parent company, came back with a much more ambitious scenario involving a larger 1025 acre tract of land.

"We now have the potential of moving into 1,000 acres of port area where industry that is related to either the steel plant or related to shipping could use the land for their staging areas," said Fratesi.

The plan may see the land sold or leased back to the city from Essar Steel Algoma and Essar Ports overseeing operation of them.

Tom Dodds, CEO of Sault Ste. Marie's Economic Development Corporation, said in a phone interview Monday that separating the port from Essar Steel Algoma creates all kinds of new opportunities, from shipping of raw materials to manufacturing and distribution.

"We may serve as a new distribution point," he said.

Fratesi agrees:
"Essar owns ships, both sea-going and in-land lake ships. If they had a port established here they could consider running a shipping company out of the Sault," he said.

"It may have Essar Steel as a customer but to remain sustainable it's going to need to find other customers," said Dodds.

Goods that are traditionally offloaded in ports such as Montreal and shipped west by truck may make sense to instead be offloaded at the Port of Algoma because of the lower costs associated shipping high volumes by boat, Dodds said.

"What I project moving forward is a series of incremental changes on how that port operates and the kinds of goods that it is bringing in and through this area," said Dodds.

Dodds said the city needs to look forward and think about opening more land to support warehousing and industries who may be attracted to the Sault when the port eventually opens.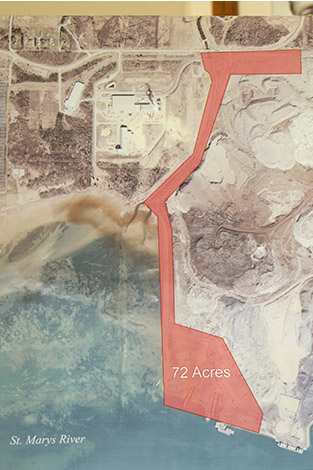 Fratesi said the environmental impact of the port should be minimal, as the proposed lands are currently in a highly industrial area flanked by Algoma Steel and GP Flakeboard.

"You're not contaminating green lands, you're developing lands that have been used industrially," he said.

Asked what the significance is of naming the proposed site the Port of Algoma over Port of Sault Ste. Marie, Fratesi said this is much bigger than Sault Ste. Marie.

"Algoma has a tie-in with Algoma Steel and is a name they (Essar Ports) actually threw at us and we kind of liked it. It implies something bigger," said Fratesi.
(TOP PHOTO: The 1025 acres of proposed Port of Algoma lands, BOTTOM PHOTO: The original proposal by the city for 72 acres of land for a public access port.)
*************************
Previous SooToday coverage of this story:
Port has huge potential, says Essar Steel Algoma CEO (11 photos)