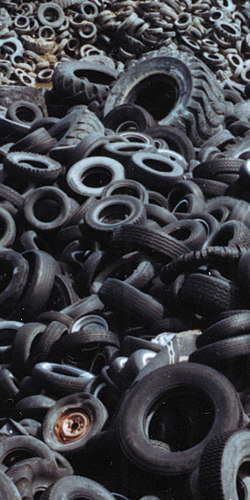 Locals going for a stroll near Queen Street will soon notice a bounce in their steps.
While the melting snow and increased temperatures will surely boost spirits, a pilot project the city has decided to undertake should help people enjoy a more comfortable walk.
At Monday's meeting, City Council approved a rubber walkway pilot project which will be installed on the south side of Queen Street from Pim to Church Street.
Rubber for the walkway will come from recycled tires but it won't look anything like tires when they're done with it.
Instead it will be put together like interlocking bricks.
It even comes in a plethora of different colours.
Ward One Councillor Steve Butland said the Ontario Tire Stewardship reached out to him and will partner with the city on the project.
"Rubber sidewalks definitely provide a more comfortable walk and are much more ascetically pleasing," said Butland. "Long term, in terms of maintenance, the costs should also prove to be lower."
Butland explained the rubber walkway can be easily lifted so the surface underneath could be leveled if the ground heaves or dips.
For the short term, however, the costs will be higher.
The cost of installing sidewalk in 2011 was $75 per square metre, while the rubber sidewalk will cost $110 per square metre.
Therefore, the city estimates it will cost approximately $17,000 to install a rubber sidewalk compared to $12,000 for concrete.
Jerry Dolcetti, Commissioner of Engineering and Planning, said city staff has spoken to their counterparts in Mississauga - who have undertaken a similar project.
Dolcetti said city staff in Mississauga has reported their experience to "favourable" for the most part and the rubber sidewalk held up well during the winter.
Our pilot project will be closely monitored to see how it fares during the harsh Northern winter months.
"In coming winters we should be faced with a lot of plowing that may have an impact on the surface, but until we do something like that we won't find out," Dolcetti said.
If the rubber walkway doesn't live up to expectations it can be replaced by a concrete one.
Also a cause for concern could be potential allergic reactions to the rubber sidewalk from people with latex allergies.
Butland said he got a call from retired physician who thinks it could be an issue and added the city will look into it.
In addition to providing a more comfortable walking surface, the city thinks a rubber walkway will be safer - helping them bounce away from slip and fall lawsuits.
Nuala Kenny, City Solicitor, said the majority of claims issued against the city are pothole complaints or slip and falls on the sidewalks.
However, most cases do fall under the cities deductible, so it's not significant in terms of expenses.
The project costs will be brought to council at their meeting on May 14.