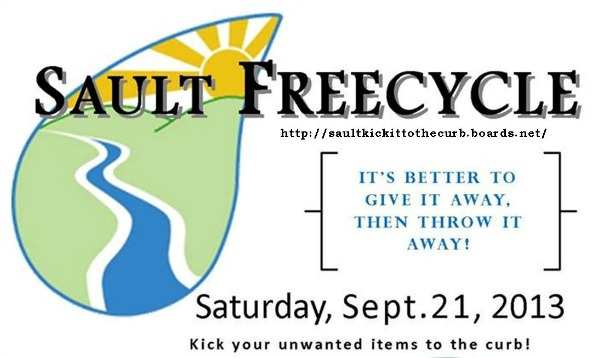 NEWS RELEASE
THE CITY OF
SAULT STE. MARIE
**************************
SAULT STE. MARIE - The City of Sault Ste. Marie encourages residents to take part in Sault Freecycle Day on Saturday, September 21, 2013.
Residents can participate by simply placing re-usable unwanted items at the end of their driveway with a sign indicating "FREE" – for other residents and neighbours to pick up and take away.

Sault Freecycle Saturday is a Green event initiated by local organizer Anita Beckett. For additional information, email saultfreecycle@gmail.com, like the Sault Freecycle Facebook page or check out the Sault Freecycle forum for posting items you want or items you have to give away.

Items not picked up by 9 p.m. Saturday evening are the responsibility of participating homeowners/residents and must be returned to their homes.
There will be no special waste pickup by the City Public Works and Transportation department for this event.

Let's recycle on Sault Freecycle Saturday!
**************************