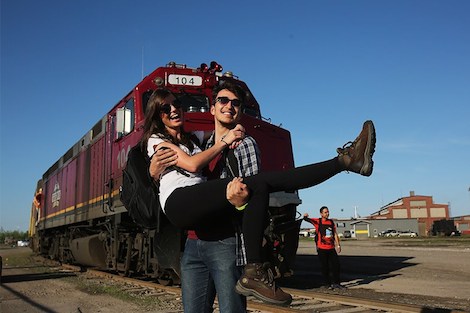 The federal government has come through with additional funding which will keep the Algoma Central Railway running for an another three years.

"It was literally the eleventh hour and fifty-ninth minute," said B. Allen Brown, president and CEO of Railmark Holdings, Inc., who will act as third-party operator.

The funding announced is for $5.3-million over three years, instead of the $7-million over five years that Railmark requested.

Brown points out the government was tied to the three-year funding legislatively and he expects when it sees the results it will provide the balance over the next two years.

Brown said he is excited to be able to get down to work.

"We can get started," he said.

For Linda Savory-Gordon, whose grass-roots Coalition for Algoma Passenger Trains (CAPT) organization fought for the subsidy, the news is an incredible relief.

Savory-Gordon was at the CN Rail yard this evening watching as the passenger train rolled in.

"We wanted to take pictures in case it was the last train," she said.

Al Errington, co-founder of CAPT, said he is excited the subsidy will be managed by the city of Sault Ste. Marie and hopes its organization can provide ongoing input into how the service is run.

"There's never been a review process in the funding of the passenger train in almost 40 years. That is due-diligence over how public money is spent and very appropriate," said Errington.

Railmark is still waiting to receive an operator's certificate, allowing it to run trains in Canada.

"I can't tell you that we can respond to get the train back north on Thursday, but I am confident to say it will be shortly thereafter," said Brown.

Railmark will take over operating the passenger service, which is still owned by CN Rail.
*************************
Previous SooToday coverage of this story:
Deadline for train funding passes (Update: funding announced)