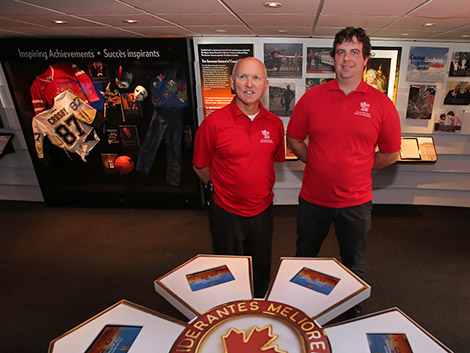 It's an Honour! is a travelling exhibit which is travelling across Canada and celebrates the honours programs in Canada, including military decorations and the Order of Canada.

The exhibit was set up in the Station Mall parking lot Tuesday and Wednesday with free admission for all.

"People seem to be learning a lot, they also share stories. We met some recipients of the Caring Canadian Award, it's always good to meet people who volunteer," said tour manager Francois Grenier.

Attractions include a video message from Governor General David Johnston and retired astronaut Chris Hadfield, with touch screens and examples of medals and awards.

About 300 people walked through the exhibit on Tuesday and Grenier expected about the same number to have visited Wednesday.

"Our four main goals are to educate people on the honours program, inspire people, instil pride and we always like to share inspiring stories," he said.

There was also information on how to nominate deserving individuals for their own honours.

The exhibit is housed in a specially-built transport truck trailer, which expands once parked to about 1000 square feet of floor space when the slide-outs are activated.

"When we are on the road we just hit a remote an basically the whole floor folds up," said Grenier.

The exhibit will be next seen in Blind River for their Community Days celebration starting today and running until July 13.

For more information on the exhibit click here.
LOCAL2.ca cameras took a tour of the exhibit and video from the visit is up now.
(PHOTO: (L-R) Tour operator Anthony Rivard and road manager Francois Grenier seen July 10, 2014 standing in the specially made trailer holding the "It's an Honour!" travelling exhibit. SooToday.com/Kenneth Armstrong)