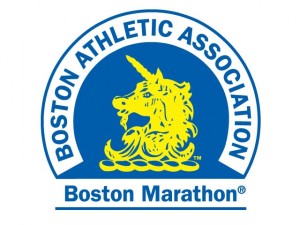 Echo Bay native Christine Thomas had to wait nearly 18 months for it but it was a special moment nonetheless.
Earlier this week, Monday to be exact, Thomas participated in the famed Boston Marathon.
The 2014 event was the first since a bombing near the finish line killed three and injured nearly 300 others last year, halting the race.
"It's hard to explain what it felt like," Thomas said of the 2014 marathon. "It felt very special. I've never ran it before so I don't really know what it was like in years past but there was never a point during the 26 miles where there wasn't someone there cheering for you. In most of the locations (the fans) were probably eight to twelve people deep."
"It was almost like the people of Boston were thanking us just for running when we should be thanking them for supporting us and cheering for us," Thomas said. "It was very surreal and a great experience."
Thomas said the police presence was noticeable throughout the course.
"Along the course, they were staggered across the road but I don't think you could go more than a couple hundred metres before there was another police officer," Thomas said. "They were very close."
Thomas said her father and some friends were in attendance and got inspected at least three different times during the event, including near the finish line as well as in the family meeting area following the marathon.
"Security was very tight, which is a good thing and it was comforting to know that there was that much security," said Thomas. "You could hear helicopters flying over through the entire race.
Thomas, who finished the marathon with a time of 3:09:25 called the marathon a humbling experience.
"I almost felt like the minute I started that I was dehydrated," said Thomas. "When you get dehydrated you get the chills and goosebumps. As I started to run, it was more chills of feeling how nice it was to be so supported by the fans."
"I've never finished a race before when people, total strangers, came up to me and said 'Good race', Thomas said. "Everyone was so close knit, it felt like everyone was your best friend and you've never met them before in your life."
Thomas qualified for the Boston Marathon in October 2012 when she participated in the Toronto Waterfront Marathon. Because of the timing of the Toronto event, runners who qualify for the Boston Marathon wait until the following year to participate which, in this case, meant Thomas would compete in this year's Boston Marathon as opposed to the 2013 event.