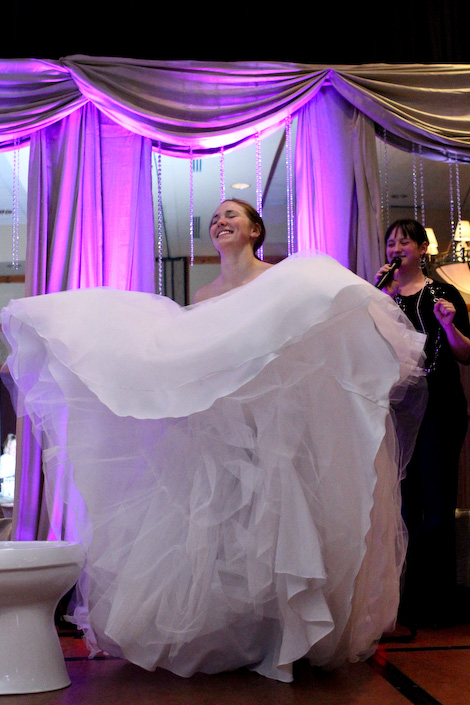 There was a dream wedding at the Water Tower Inn last night and everyone was invited.

Well, kinda.

Approximately 50 engaged couples, some with bridal parties in tow, attended the Pavilion's Dream Wedding Showcase event that included presentations, displays, and a full-on wedding style cocktail hour, open bar, and multi-course meal.

Emceed by Jamie Hilsinger, marketing coordinator for the Water Tower Inn, the evening showcased local service providers as Hilsinger offered helpful hints to potential couples.

SooToday.com's favourite tip?

The extremely informative, visual, and humourous "how to successfully evacuate one's bladder while wearing a poofy wedding gown" tip (pictured).

Presented much like speeches at an actual wedding, guest speakers gave attendees advice on a variety of important matrimonial topics such as choosing your jewelry, the thrill of hosting a destination wedding, what questions one should ask a DJ, which flowers might stain your wedding dress, whether or not your decor is permitted at your venue of choice, and how to chose a photographer to match your style.

These words of wisdom were offered by Richard Rosset of Savoy's Jewellers, Marlin Travel, Dennis Murphy of The Music People, Suzanne Wilson of Flowers With Flair, Judith Disano from Elegant Occassions, and Curt O'Neil.

Lucas McFadden and Leslie Filion weren't sure what to expect when they decided to attend the Dream Wedding Showcase, but found the information useful.

New ideas were sparked and the couple may decide to utilize the expertise of a few of the evening's presenters when their wedding comes around.

"Dennis Murphy was very informative," McFadden told us. "I never would have thought about spending so much time with the DJ, but it's definitely something I'm going to take into consideration."

Once all the formalities were over, presenters had the opportunity to meet guests one-on-one and discuss their wedding plans further.

The Water Tower Inn's information table was especially busy as couples checked facility availability, a number of them booking their weddings then and there.

On lucky couple that hosts a wedding at the Water Tower Inn in 2012 will be chosen to win a $3,000 vacation arranged by Marlin Travel.