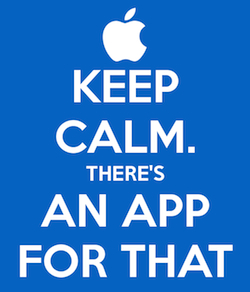 Like many, you've likely made a New Year's resolution.

Maybe you want to be more active, eat healthier, and/or lose weight.

Some of you may wish to save money, manage your time better, or learn to reduce stress.

We'd wager that a number of you hope to quit smoking in 2014.

Well, in case you need a little help, here are 10 handy iOS apps to keep you on track.

Human: Move 30 minutes or more




Human is the easiest way to get and stay healthy. It helps you move 30 minutes or more, every day.

Human tracks your outdoor activities like walking, running and biking automatically. Carry your phone in your bag or pocket, and go about your day!

It does not count indoor steps. Go outside and move at least a minute. A few short walks or bike rides will get you to the Daily 30.

Some features include:
Automatically records your outdoor walking, running and biking.
Build up a streak for every Daily 30 of the week.
Get notified when you reach your Daily 30.
See all your individual activities including maps and details.
See your weekly active minutes and weekly average.
Fooducate




Lose weight, track your progress, and eat real food. The only app that looks beyond the calorie and helps you eat healthy and tasty. Scan a product barcode to see what's really in your food. Fooducate will also show you healthier alternatives!

Voted iTune's Best of the iPhone Health and Fitness category. Won 1st prize - US Surgeon General Healthy App Challenge. Endorsed by Dr. Oz, Oprah, USAToday, NYTimes, WSJ, ABC, FOX,and more

Features include:
Track your food intake and exercise
Pay attention to the quality of calories, not just quantity
Automatically scan a product barcode to see a food's nutrition grade (A, B, C, or D)
Learn about a product's pros and cons
Choose healthier alternatives
Add your own foods to track
Do Eat Raw




Do you want to eat more raw foods, but are unsure what to make? Are you looking for new raw recipe ideas? Would it be easier for you looking for your favourite raw recipe while you are at the supermarket?

Here you can find your answers, healthy and easy delicious raw recipes that include everything from dressings to desserts and beverages to incorporate into your daily life. Over 300 raw vegan recipes, with more added in different categories.

Features include:
Simple raw food cuisine: delicious and so easy to prepare, anyone can do it!
Choose by dish category: dressings, spreads and dips, main courses, desserts and others.
Choose by Ingredient: search for what you have on hand or what you are looking to buy.
Choose by rating score. Yes, you can also rate recipes, so you can quickly identify your very favourites.
No internet connection required.
Shopping is made easy by saving a shopping list for any recipe, directly from recipes with a tap.
Mint.com Personal Finance




Mint.com allows you to track, budget and manage your money all in one place, so you can see where you're spending and where you can save. Open an account, add your bank, credit, loan and retirement accounts and Mint will automatically pull in and categorize your transactions. It's safe, secure and easy to keep your personal finances organized.

Features include:
Works with all major Canadian banks, including RBC, TD, Scotiabank, BMO and HSBC, so you'll have anytime access to the big picture and the small details.
View all of your accounts including: chequing, savings, credit cards, investments, and retirement.
Mint automatically pulls in and categorizes your transactions. No need to enter your own transactions.
Easy-to-understand graphs show you where your money is going so you get a clear picture of your spending and your net worth.
Know how much you have left to spend. Mint creates a customized budget based on your actual spending.
Add manual transactions at the time of purchase so you can track cash spending.
Avoid late fees and monitor cash flow — get bill reminders, alerts and advice sent right to your device.
Your app is passcode protected with a unique four-digit PIN. If you lose your device, or even temporarily misplace it, simply deactivate mobile access from your Mint.com profile page. With one click, prevent unauthorized access to Mint on your iPad or iPhone.
Buy Me a Pie!




Buy Me a Pie! is a convenient and elegant grocery list application that makes everyday shopping easy and smart. Take advantage of the premium capacities of your iOS7-based device by using the new Buy Me a Pie! - Grocery Shopping List that is specially designed for it. With shopping lists always handy in your phone, synchronized in real time, you always know exactly what you are in the shop to get.

Features include:
Smart grouping: group your products by aisles with the help of colours assigned to the items, and the app will group the items in the shopping list automatically
Built-in self-learning dictionary: entered items are automatically stored in the dictionary for future fast entry. Sort the dictionary the way you prefer - alphabetically, by colour groups and by frequency of use
Multiple shopping lists organized into the convenient list of lists with the preview of their contents
Share your grocery lists via text messages or emails
Take a Break! - Guided Meditations for Stress Relief




You can enjoy the deep relaxation, stress relief and benefits of meditation now with this app by Meditation Oasis. Featuring two popular meditations from the the Meditation Oasis podcast, the app gives you the option to listen with or without music or nature sounds. You can also listen to the relaxing music and nature sounds alone.

Features include:
Relax easily and quickly as you are voice-guided step by step
Choose from two relaxing audios: Work Break Relaxation (7 min.), Stress Relief Meditation (13 min.)
Listen with or without music or nature sounds
QuitNow!




QuitNow! is the most complete tool you will find in the App Store to quit smoking.

QuitNow! offers you real-time status, anytime, to help you cope with anxiety:
The time (days, hours, minutes) since the last cigarette of your life
How many cigarettes you have avoided
The money and time you have saved
Also, QuitNow! will provide you with W.H.O.-based (UN's World Health Organization) indicators on your health improvement process, and an achievement list you will unlock one by one, as time passes, motivating you to achieve your goal.

Lose it!




Is weight loss one of your new year's resolutions? Lose It! helps you set a daily calorie budget, track your food and exercise, and stay motivated to make smarter choices and achieve your goal. We think it's the best, most seamless weight loss system available.

Lose It! is based on the proven principles of calorie tracking and peer support for healthy, sustainable weight loss.

We customize a weight loss plan that fits your life. Set your goals and achieve them on your terms.
All the tools you need to achieve your weight loss goal, all in the palm of your hand. 

Lose It! offers a simple, easy-to-use tool for tracking what you eat and do. Our food database has thousands of restaurant, grocery store, and brand-name foods, all researched and validated by our team. Log food and activity on your iPhone, iPad, iPod Touch, or online at LoseIt.com.


Smoke Free




This is a stop smoking app with a difference. You'll get all the usual things you want from a cessation app, and something very important more. For this is an experiment designed to help researchers understand how to help people stop smoking.

By keeping a 10-second diary you can shed light on the hardest part of giving up smoking. Each day we'll ask you about the number of cravings you had and how severe they were. What's more, some of you will have the opportunity to try other techniques that might make it easier to stop smoking.

This is all entirely voluntary and you can download the app without taking part in the experiment. Your data will be kept anonymous and you can delete it at any time. But we really hope you do take part because everyone who does will help the quitters who follow. So do yourself a favour by quitting smoking. And do your fellow smokers a favour by helping them understand how it's done.

Daily Budget




Are you looking for a clean and easy budget app which will help you save money and is actually fun to use? Then you have to try Daily Budget!

Each day you get a budget based on your income and fix cost. If you spend more/less of your budget on a given day, your budget will be that much smaller/bigger on the next day. Create wishes to save for larger purchases. The money will be deducted from your budget automatically each day. Know your next days budgets at a glance. You are not bound to calendar months. Change the cycle duration and start/restart anytime.

Features include:
Accumulative daily budget
Wishlist (helps to save up for bigger purchases)
Fix Cost Calculator
Automatic daily savings
Variable cycle lengths (holiday mode)
Projected savings
Category overview (know where your money went)