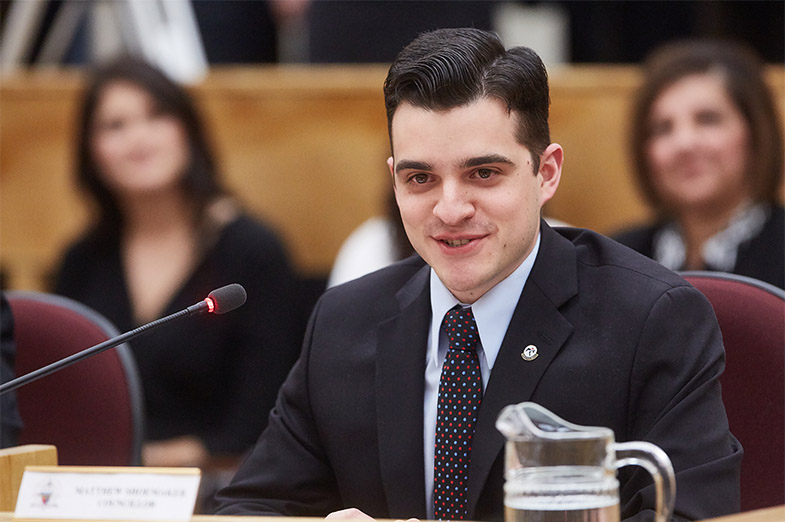 A 78-percent across-the-board increase in building permit fees is unacceptable, says Ward 3 councillor Matthew Shoemaker.
Because of how the increase is calculated, that proposed increase will actually be doubled over five years.
The Ward 3 councillor was reacting to a spending review presentation for the city's Engineering and Planning Department at last night's city council meeting.
Council heard the Engineering and Planning Department's reserve fund — which in 2009 carried a balance of $1.8-million — has been depleted to just $18,820.
In an effort to replenish the department's reserve fund, Jerry Dolcetti, commissioner of Engineering and planning, said that fund would have to get to at least $1-million to make the division self-sustaining.
This is to be accomplished by increasing building permit fees, starting with a 37-percent boost in 2016.
Dolcetti said, for example, building permit fees for a 4,000-square-foot house would cost about $3000 if applied for under the current fee structure.
"With the increase next year, that will probably cost them an extra $1000," said Dolcetti.
Dolcetti gave a second example of putting on a new roof on an existing dwelling — something he said CAO Albert Horsman recently applied for.
The current $75 building permit fee for constructing a new roof would go up to about $90 if applied for next year under the proposed changes, Dolcetti said.
Fees will then increase again by an additional 27 percent in 2017 and another 10 percent in 2018.
The 2019 and 2020 years will each carry an additional two percent increase.
Shoemaker would like to see more number crunching to avoid such a steep increase in fees.
"From my perspective, a 78-percent increase in five years is not acceptable. That is my stance on it," said Shoemaker.
However, because those increases are cumulative — compounded year-over-year — the fees will actually jump by 99.1 percent over the next five years, not 78 percent as calculated on-the-spot by Shoemaker.
For example, taking the $75 figure and applying the 37-percent increase, followed by 27-percent, 10-percent, two-percent and two-percent compounded year-over-year, the final total equals $149.34.
Dolcetti said with a forecast of 0.5-percent growth in building projects over the next five years, the increases are needed to offset an expected flatline in new construction.
"The fact is — if we don't do it this way — we're then looking at a totally different way of trying to access dollars to pay for the positions in the building division that are directly related to the building industry," said Dolcetti.
The proposed increases will be implemented across the board, for industrial, commercial, institutional and residential projects.
Dolcetti said it is hard to say if the increases will discourage development in Sault Ste. Marie, but said feedback about the changes was positive at a meeting with stakeholders held earlier Monday.
He said eight stakeholders were present at that meeting — which was advertised by public notice — including three developers and two renovation contractors.
Dolcetti said their biggest concern was maintaining the current level of service and that they were understanding of increases in building permit fees.
Councillor Marchy Bruni countered that contractors may be agreeable to the increases because they are costs which can be passed on to the homeowners.
Ward 1 councillor Steve Butland was in favour of the increases.
"Yes it's a big hit. But if some of the folks in the business — whether they pass it on or not — say 'I'm okay,' we should be okay," he said.
Dolcetti said for many years the price of building permit fees had not been increased, while at the same time reserves were being depleted, after the city requested the department pay rent for their offices on the fifth floor of the Civic Centre.
In 2010 the city requested $300,000 from the department's reserves for past rent, with an additional $100,000 paid each year since then.
The Engineering and Planning Department has also had a problem retaining building inspectors, said Dolcetti.
In the past five years the city has lost a total of four building inspectors trained by the city at a total cost of $140,000, who then moved to jobs in other municipalities.
Usually the city maintains a staff of six inspectors, but is currently down one due to a recent resignation.
"We're training all these people and they are getting their experience with us then going [to other cities]," said Dolcetti.
The department hopes to develop a retention program geared at reducing the loss of inspectors to other communities.
"Not only do we lose that person, but new people now have to be trained," said Dolcetti.
The department will also look into the possible implementation of development fees, which collect funds for services resulting from new growth and help pay for the additional infrastructure required, such as sewer hookups.
Although Dolcetti said they are common in many other municipalities, Sault Ste. Marie does not currently impose development fees.
The proposed adoption of increased building permit fees is scheduled be presented at the next council meeting, while proposed development charges will come before council in January.
(FILE PHOTO: Ward 3 councillor Matthew Shoemaker. Kenneth Armstrong/SooToday)