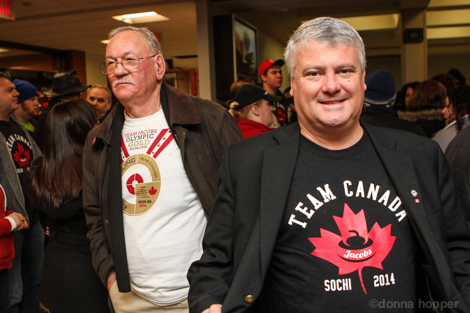 With Sault Ste. Marie Mayor Debbie Amaroso out of town attending to family matters, and with Ward Two City Councillor Terry Sheehan (looking patriotic in a Team Canada T-shirt) doing a clearly enthusiastic job filling in as Acting Mayor for the month of February, some political speculation has arisen in the Sault.
SooToday.com asked Sheehan Wednesday if he is considering a run for Mayor in the October 27, 2014 municipal election.
"No, I haven't been thinking about that," Sheehan told us.
"A lot of people, since I've been Acting Mayor, have been asking me either flippantly or seriously, 'why don't you run for Mayor?' and I've been getting some e-mails and phone calls…I take that as a high compliment for sure."
"A lot of people have encouraged me to run for Mayor but it's not something I'm thinking about at the present time."
Sheehan has not yet filed his nomination papers for re-election as Ward Two City Councillor.
That, along with the enthusiasm Sheehan has shown as Acting Mayor, has led some people to think he may run for Mayor.
Mayor Amaroso filed her nomination papers for re-election as Mayor at the beginning of the year, and several other incumbent City Councillors have also filed their papers.
Sheehan, who works as an Employment and Training Consultant at the Sault's Ontario Ministry of Training, Colleges and Universities office, stated: "I never file this early, and it's unusual for people to file this early."
Candidates have until September 12 to file their nomination papers.
"I haven't been thinking about anything except how busy I am," Sheehan chuckled.
Of his stint as Acting Mayor, Sheehan said: "I love it, it's been absolutely amazingly busy, with fun, good stuff and controversial stuff."
Sheehan was clearly enthusiastic and looking very Mayoral at City Council meetings, at Friday's announcement of 10 new jobs being created at the Sault's Canadian Bank Note office and Innovation Centre, and, of course, at Monday's welcome home gathering for Team Jacobs at the Sault Ste. Marie Airport.
As for controversy, Sheehan diplomatically addressed several members of the Sault's LGBTQ community (carrying pride flags and other pride paraphernalia), concerned with the City's position on flying the LGBTQ pride banner outside the Civic Centre, at the February 17 City Council meeting.
Mayor Amaroso had indicated early in February that the City would not be flying the pride flag because the City does not officially endorse protests.
Several Canadian municipalities, and the Ontario Legislature, chose to fly the flag in support of LGBTQ athletes competing at the Sochi Winter Olympics, in protest of Russia's anti-gay laws.
Members of the Sault's LGBTQ community argued that flying the pride flag should not be seen as a protest, but as a way for the City to celebrate the community's diverse population.
At the February 17 Council meeting, Sheehan acknowledged the LGBTQ group in attendance and voiced his respect for their determination to raise the issue, and welcomed them to come forward and express their concerns at a future Council meeting.
The group attended the February 17 Council meeting silently for a time, then quietly left.
The group was planning to address Council at its upcoming March 3 meeting, but Sheehan told us Wednesday that LGBTQ community members have since decided they will need some more time to prepare a formal delegation.