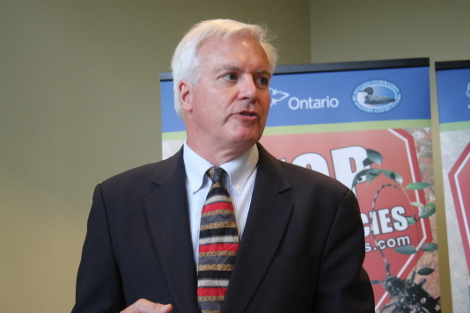 "We're blessed to have this facility," said University of Toronto Geography Professor Dr. Tat Smith, referring to Sault Ste. Marie's Invasive Species Centre (ISC).
Smith (pictured here) is the ISC's Chair, and was in attendance at the ISC for a funding announcement made by Sault Ste. Marie MPP and Minister of Natural Resources David Orazietti Wednesday.
The province will be spending $1.16 million over the next three years to develop 24 Invasive Species Centre strategies to slow down or (wherever possible) reverse the harmful impacts of invasive species on forests, plants and aquatic life.
Among the 24 projects are strategies aimed at protection of Ontario's ash trees from the emerald ash borer (a major threat to ash trees in our area) and the development of a mobile application to help identify and track invasive species.
That's right.
There's an app for that (or, more accurately, there will be).
Sault-based Ontario MNR Provincial Forest Entomologist Taylor Scarr told SooToday.com the province, the Ontario Federation of Anglers and Hunters (OFAH) and the University of Georgia will be perfecting the smartphone application technology.
"If people see something they think may be an invasive species they can take a photo of it with their smartphone and send it along to a database," in an effort to track its growth, attack it, and hopefully reverse its impact.
Scarr added: "We'll be working with other partners to put out educational materials such as videos on YouTube and through social media on how to manage invasive species like the emerald ash borer."
"We'll be testing new traps, new lures and testing which insecticides are the best to use on different species," he said.
In Ontario, the negative impact on the environment by one type of invasive species alone (the zebra mussel) is estimated at $75 million to $91 million annually.
On a global scale, invasive species, which take over the natural habitat and the food supply of an area's native species, have a damaging cost of $1.4 trillion.
To get an idea of how nasty invasive species look, check out our photo gallery to see a sea lamprey and an Asian long-horned beetle.
Describing invasive species at Wednesday's funding announcement as "plants, animals and other organisms that are behaving badly," University of Toronto's Dr. Tat Smith told reporters the Sault and Algoma area is "an invasive species hot spot."
"You've got rail, shipping, and a lot of people coming up here for recreation (the movement of goods and people bringing the unwanted pests with them)."
Movement of firewood, Smith told us, is another example of how invasive species are spread.
It is highly recommended firewood be burnt where it is bought.
"The emerald ash borer is a really bad one. It's an organism that's capable of killing every ash tree, and that's as serious as they get. Also, the Asian carp in the Great Lakes may have a huge, drastic impact on our fisheries," Smith added.
Noting that some of the 24 projects to be funded by the province are focused on detection of invasive species, Smith said "how to recognize invasive species is critical."
"If a species gets beyond eradication, then we get into a position where we have to manage it in the long run," pointing to sea lamprey control as an example.
There is some good news in all of this, however.
Smith praised the work of facilities like the Invasive Species Centre, all three levels of government and groups such as the Ontario Federation of Anglers and Hunters in eradicating the Asian long-horned beetle from Canada.
The sea lamprey problem, after a decades-long fight, has been reduced by about 90 percent.
"We've eradicated some species, and prevented others," Smith said.
"We are not going to eliminate the emerald ash borer from the Ontario landscape. Municipalities have to make sure they get ahead of it in terms of reducing the threat of dead or damaged trees, and get that landscape re-forested to support life," he added.
"We each have to watch what is in our own gardens, in the same way we should take care of our own health."
A news release issued today by the office of David Orazietti follows.
****************************
Orazietti announces $1.16 million for Invasive Species Research Centre

Provincial government supports innovative research to protect environment, economy

SAULT STE. MARIE - The province is investing $1.16 million in the Invasive Species Research Centre to help develop research and response strategies to threats from invasive forest, plant and aquatic species, David Orazietti, minister of Natural Resources announced today.

"Our government is committed to protecting Ontario's rich biodiversity from the destructive impact of invasive species," said Orazietti. "A healthy environment is good for recreation and tourism, good for natural resource development, good for the economy and good for the people of Ontario."

Ontario is supporting research projects, educational programs and on-the-ground work that will help combat invasive species in order to protect the province's environment and its economy.

The Invasive Species Centre (ISC) in Sault Ste. Marie is developing strategies that outline approaches for the prevention, early detection, and rapid response to threats from invasive forest, plant and aquatic species.

This year, the ISC is supporting 24 projects, including:
The development of a mobile application to help identify and track invasive species
Strategies to help protect Ontario's ash trees from the emerald ash borer
"The Invasive Species Centre is dedicated to coordinating evidence-based prevention, detection and response activities and facilitating collaboration among a wide range of stakeholder groups to help Ontario and Canada respond to the environmental and economic threat posed by invasive species," said Dr. Tat Smith, chair, Board of Directors, Invasive Species Centre.

Protecting Ontario's biodiversity is part of the Ontario government's plan to ensure a healthy environment for future generations.

Quick facts

Invasive species out-compete native species for food and take over their habitats.

Since 2011, the ISC has supported 131 projects to battle invasive species and safeguard our natural resources and economy.

Globally, invasive species costs are estimated to be $1.4 trillion (the equivalent of five per cent of the global economy and seven times the cost of natural disasters).

In Ontario, the negative impact of invasive zebra mussels on the environment is estimated at $75 to $91 million per year.

****************************