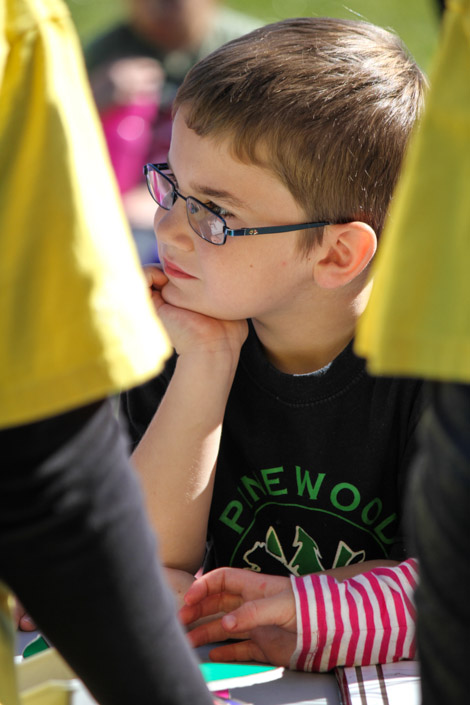 For the last few days, students in Grades 3 and 4 from across the city have enjoyed some unique activities while gaining valuable knowledge during the biennial Children's Source Water Festival hosted by the Sault Ste. Marie Region Conservation Authority (SSMRCA).

Launched in 2007 as part of the SSMRCA's Drinking Water Source Protection Program (DWSPP), the festival aims to educate children about the importance of water protection and encourage them to practice conservation in their homes and the community.

Normally held at the Fort Creek Conservation Area, recent flooding saw this year's event moved to the practice football field at Superior Heights.

More than 20 hands-on activity stations focusing on five basic themes make up the event; source water protection, water attitude, water technology, water science, and water conservation.

At one station, Rolling Through the Watershed, children don a velcro vest as they play the role of a water droplet traveling through Sault Ste. Marie's watershed picking up materials, particles and debris along the way.

"It teaches them how simple steps such as using less salt on their steps in the winter, or making sure the car isn't leaking oil in the driveway can reduce water pollution," Christine Ropeter, SSMRCA assistant manager, told SooToday.com.

Another activity simulates cleaning a duck following an environmental disaster as participants attempt to wash a feather coated in oil.

"Hopefully this event will spark the children's imagination and their creativity to spread the word about the five water themes," Ropeter told us. "They may go home and tell mom and dad that they shouldn't be washing their car in the driveway, but take it to a carwash instead where the water is filtered better and not going straight into a storm sewer and back into Lake Superior or the St. Marys River."

"The goal is to stop water contamination before it starts," she concluded.

Seven-year-old Pinewood Public School student, Jake Clouthier (pictured), summed up his Children's Source Water Festival experience for us as: "Invasive species are bad. Wasting water is bad. Some bugs are cool."

The three-day event (September 24 through 26) is run by a dedicated group of volunteers from a number of area high schools as well as parents and adults from within the community.

For more information about the Sault Ste. Marie Region Conservation Authority and its initiatives, please click here.