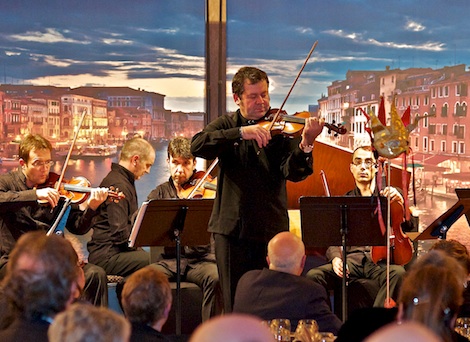 NEWS RELEASE
ALGOMA CONSERVATORY
OF MUSIC
****************************
On Friday night, November 30, Algoma Conservatory Concerts presented An Evening in Venice - the Mayor's Gala for the Arts to a sold-out crowd at Algoma's Water Tower Inn.
A performance by the nine-piece Interpreti Veneziani - a renowned string orchestra from Venice - highlighted the event.
Things began with welcomes from Mayor Debbie Amaroso and Algoma Conservatory's director Guy Traficante.
Then came a six-course gourmet dinner, a Venetian marketplace with fabulous items from Italy and a live auction.

The next day, the orchestra performed to a packed house at Central United Church.
The orchestra was greeted with a standing ovation by a cheering crowd and dazzled the audience with two amazing encores.
One concert-goer summed up the experience of Interpreti Veneziani's performance: "The music reached a level of such such pureness that I felt they had become one entity, that they had become the music, and that it had merged with the concentration of the audience. I was transfixed. Everyone in the auditorium was joined in a profound way that I have never before experienced."

Both events were sponsored by the Ontario Lottery and Gaming Corporation and the gala was a fundraiser for Algoma Conservatory Concerts and the Sault Ste. Marie Cultural Endowment Trust fund.
The evening was captured with these excellent photos by Terry Wurdemann.

****************************