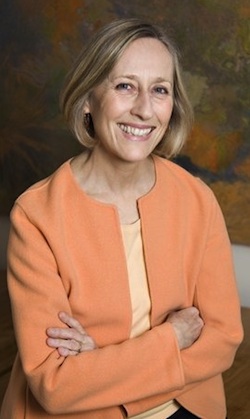 NEWS RELEASE
ALGOMA UNIVERSITY
*************************
Elizabeth Hay to deliver Hayes-Jenkinson Memorial Lecture

SAULT STE. MARIE, ON (March 12, 2013) - Giller Prize-winning novelist Elizabeth Hay will deliver the Hayes-Jenkinson Memorial Lecture at Algoma University on Tuesday, March 19 at 7:30 p.m.

Ontario-born Elizabeth Hay is a nationally and internationally acclaimed author, best known for her 2007 Giller Prize-winning winning novel, Late Nights on Air, which contributes to the theme of Canadian identity in literature.
In 2002, she received the prestigious Marian Engel Award.
In 1997 and 2003, she was a finalist for the Governor-General's Award for Fiction, for Small Change and A Student of Weather respectively.
Other notable works include Garbo Laughs (2003) and Alone in the Classroom (2011).
Aside from writing novels, Hay also pens short stories, non-fiction and critical essays.

According to Dr. Michael DiSanto, associate professor at Algoma University in the Department of English: "Elizabeth Hay is a nationally and internationally celebrated writer whose visit to our campus will enrich the experience of our students and the wider community. Her novels have become a part of our national literature."

Hay's visit is being funded in part by the Hayes-Jenkinson Memorial Fund and is hosted by the Department of English at Algoma University.
The Hayes-Jenkinson Memorial Fund was established to bring significant speakers in the fields of English and history to the university for the benefit of students.
The Hayes-Jenkinson Memorial Lecture series provides students with the opportunity to hear, see and speak with famous scholars, poets and writers who might not otherwise visit Sault Ste. Marie.

In past years, Hayes-Jenkinson Lectures have included the likes of public historian and Acting Director of Research, Exhibition, and Interpretation of the Canadian War Museum/Musée Canadian de la Guerre, Dr. Tim Cook; Dr. Jim Miller, one of Canada's leading historians on Aboriginal and non-Aboriginal relations; and award-winning Canadian poet Lorna Crozier.

Hays lecture, titled "The Poems Behind the Prose," will be held in the Great West Life Amphitheatre.
Admission is free and open to the general public and the university community.
A question period will follow the lecture, and a reception will be hosted in the Speak Easy.

Books will be available for purchasing and signing.
For more information on Hay, please visit here.

About Algoma University
Algoma University offers a wide variety of liberal arts and sciences degree options including programs in psychology, computer science, business administration, fine arts, community economic & social development, and biology in Sault Ste. Marie, Brampton, Timmins and St. Thomas.
As a partner with Shingwauk Kinoomaage Gamig, Algoma U is committed to respecting Anishinaabe knowledge and culture.
Algoma University has launched its Essential Elements Campaign to expand its campus and offer more scholarships and awards to students.
To learn more, visit here.
Photo by: Lorraine Brand
*************************