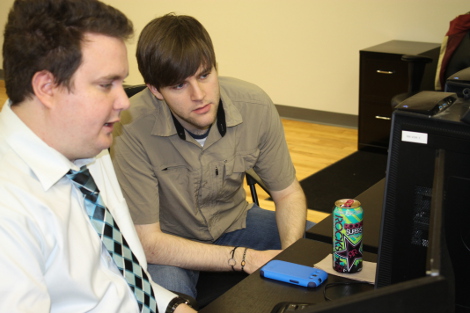 Tuesday was a good day for the Sault Ste. Marie Innovation Centre.
David Orazietti, Sault Ste. Marie MPP, was on hand to announce $1,159,660 for two SSMIC projects.
The funding comes from the Northern Ontario Heritage Fund Corporation (NOHFC).
The funding announcement was made at the official opening of the Innovation Centre's new Accelerator Hub, located on the second floor at 258 Queen Street East in Sault Ste. Marie's downtown.
$170,660 goes towards development of the Accelerator Hub, a 6,000 square foot office space where entrepreneurs may work on developing their science and technology-based businesses and create jobs with the help of Innovation Centre staff.
The Innovation Centre will continue to operate its main office and business incubator at the Essar Convergence Centre on the campus of Algoma University.
Mayor Debbie Amaroso and Sault MP Bryan Hayes, long-time supporters of the Innovation Centre, were also in attendance for Tuesday's funding announcement.
Mayor Amaroso recalled the days when the Innovation Centre was first launched with the purpose of generating jobs in the information technology sector, with the support of city council in 1999, describing that time as one of great economic distress for Sault Ste. Marie in which economic diversification and innovation were badly needed.
Amaroso said the decision to support the Innovation Centre was the right thing to do then, and continues to be, in view of the Centre's success and expansion.
The opening of the Accelerator Hub on Queen Street is seen as part of the city's efforts to revitalize the downtown core as a place to do business.
Orazietti also announced $989,000 for the Innovation Centre's Algoma Rural Agri-Innovation Network (RAIN), to help fund a regional tile drainage project for Algoma District agricultural producers in 2014-2015.
SSMIC and RAIN are working together to establish a network of Algoma District agricultural producers wishing to maximize use of their land with installation of tile drainage.
David Thompson, research project coordinator for RAIN, said tile drainage enables farmers to drain their fields more quickly and enables them to produce high value crops such as canola or soy.
"With this funding we can expand food production," Thompson said.
"The funding is great news in light of the wet weather we've been having recently…it's a great way to control water levels in the fields and (tile drainage) is a proven stress reliever for the farmer to produce his crops."
Thompson said the funding will help 28 area farmers, from Massey to Echo Bay, install 1650 acres of tile drainage and estimated agricultural production will increase for them between 20 to 40 percent.
Thompson announced June 14 will mark the first annual Eat Algoma event, describing it as a showcase for local farmers, food vendors and restaurants which the community may enjoy, to be held on Queen Street between East and Brock Streets.