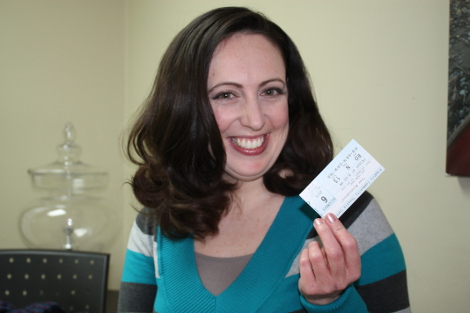 2014 QUONTA Community Theatre Festival Co-Chair Kirsty Wilson (pictured) is already pumped about this year's QUONTA Community Theatre Festival, to be held in Sault Ste. Marie March 12 to 16 at the Kiwanis Community Theatre Centre (KCTC).
Various Northeastern Ontario communities play host to the annual QUONTA event, with 2014 marking the Sault's turn to play host.
For those of us who are not familiar with the theatre scene, Wilson explained to SooToday.com: "The QUONTA Community Theatre Festival is an annual competition between Northern Ontario theatre companies, it's a collective, with the idea that they can inspire each other, share resources and training."
Theatre groups within QUONTA include the Sault's own Sault Theatre Workshop (STW), along with theatre groups from North Bay, Gore Bay, Sudbury, Timmins and other Northeastern Ontario communities.
An adjudicator is brought in to evaluate performances, and the winning troupe of actors at the annual QUONTA festival secures a place at the annual Theatre Ontario's Drama Festival.
The QUONTA Drama Region has been presenting Festivals since 1958, and since 1973 the QUONTA festival has served as a regional qualifying round for the annual Theatre Ontario Festival.
This year's Sault entry from the STW is a play entitled 'Incorruptible,' a period-piece comedy which portrays Roman Catholic monks, faced with dwindling donations in their church's collection plate, trying to make a living by selling off the bones of revered, dead monks.
Before QUONTA, STW will present 'Incorruptible' at STW's Studio Theatre at 121 Pittsburg Avenue February 19 to 22 at 8 p.m., with an additional matinee performance February 23 at 2 p.m.
At QUONTA, Gore Bay Theatre will present 'Crime and Punishment,' 'Agnes of God' will be presented by Take Two Theatre of Timmins, while Gateway Theatre Guild of North Bay will present 'Glengarry Glen Ross.'
'Incorruptible' plays at KCTC March 12, followed by 'Crime and Punishment' March 13, 'Agnes of God' March 14, 'Glengarry Glen Ross' March 15, followed by a Gala Award Brunch at the Delta Sault Ste. Marie Waterfront Hotel March 16.
"The Delta has been so good to us," Wilson said.
Wilson told us that this year, as a bonus, STW will cover the added box office fee (until February 15 only) for QUONTA ticket purchasers who call 705-945-9756.