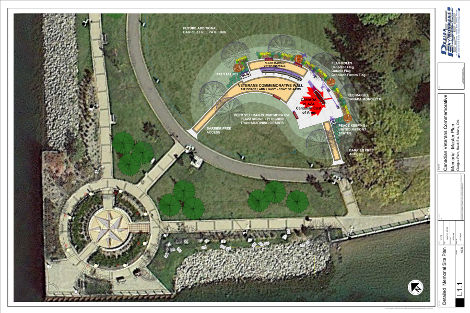 It is estimated over 10,000 men and women from Sault Ste. Marie and the surrounding area, on a volunteer basis, have served with the Canadian Armed Forces in many wars and peacekeeping missions throughout our community's long history.
That, along with the fact many younger people, in recent surveys, are not familiar with Canada's contribution in massive conflicts such as the First World War, has inspired Clyde Healey, a well-known Sault veteran who has served with the 49th Field Artillery Regiment, and a large group of his fellow Sault and area veterans, to come forward with a plan to honour those from our area who have served our country through the building of a spectacular new monument at Clergue Park, near the Sault waterfront and adjacent to the Civic Centre.
"The concept came to me last year after the Battle of Britain ceremony at the Sault airport," Healey told SooToday.com.
"Because our veterans are getting older and because the airport is far away from the city, it's more difficult for them to get out there, so we decided we should build a monument downtown, preferably near the waterfront, and from there came the idea of a three-service monument (to honour the Canadian Army, the Royal Canadian Navy and the Royal Canadian Air Force)," Healey said.
At its regular meeting Monday, city council, after a presentation by Healey (who was accompanied by local landscape architect Ernst Kreps), approved in principle plans for the establishment of an impressive new Veteran's Commemorative Memorial to be situated near the waterfront at Clergue Park.
Healey told council the memorial, designed by Kreps and Sault architect Chris Tossell, would not be intended to diminish the importance of several locations around town that honour veterans, including the cenotaph on Queen Street East.
The memorial is intended to honour not only those who gave their lives in the various wars Canada has fought in, but to honour all those from the Sault and area who volunteered to play a role in conflicts Canada has been involved in.
Those conflicts, as Healey mentioned to council, include the War of 1812 to the war in Afghanistan, the mission to Libya and current missions to Lithuania and Ukraine.
City council has not agreed to provide municipal funding at this point, but has agreed to provide the land required, professional advice from city staff, and assisting the veterans in completing funding applications for the project to senior levels of government.
"The main monument would be 10 feet high by 30 feet long with black marble all the way around, the idea behind the black marble being that as the visitors go up to look, they can see their own reflections, which draws them into the picture," Healey said, speaking to SooToday.com.
"On the front face would be the three crests (one for each branch of the Canadian Armed Forces), and on the reverse side some pictograms displaying the type of things those services do."
"The site would be raised by about two feet for accessibility and also as a tribute to volunteerism," Healey said.
There would be plaques that would point to various military events which involved Sault and area veterans, as well as honouring Sault and area veterans themselves.
On the walkway around the site would be bricks of marble, engraved with the names of veterans and their units, the bricks paid for by those who wish to donate to the monument's construction.
The Memorial would also include the Canadian Coat of Arms (which, until recently, hung on the façade of the Canada Post office on Queen Street East).
"That coat of arms is nine feet high by seven feet wide, a beautiful piece of work when you look at it," Healey said.
"They (Canada Post) have agreed in principle as to how it will be displayed."
The coat of arms would be displayed on a separate monolith 18 feet high by 12 feet wide.
The other side of the monolith would list the wars Canada has played a role in, Healey said.
"Preferably we would like the Coat of Arms to be mounted on St. Marys River sandstone, to connect with our area, whereas marble would be more durable."
There are also plans for a large statue of a Canadian soldier, representing all Canadians who fought in the War of 1812 to those who serve in the present day, Healey said.
The total cost for the project is unknown because at this point things are still in the conceptual stage, Healey said.
"It's substantial enough to know it's going to take a lot of effort to raise the money but the final product will be something the Sault can be proud of," Healey said.
Though the Royal Canadian Legion Branch 25 is involved, fundraising will be handled by local veterans through what Healey calls a "multi-faceted" strategy.
"People will be raising money through the purchase of bricks on the walkway, Veterans Affairs has money for monuments of this nature until 2015, there's also a War of 1812 fund, the Trillium Fund and other veterans funds," Healey said.
Fundraising kiosks will also be set up in local shopping malls.
Healey said he hopes a poster promoting the project that graphic designers are working on will be ready by the fall, along with a possible online presence for information and donation purposes.
"As far as I know, this is an original concept…I know of no other memorial like this in Canada," Healey said.
"A number of us (local veterans) believe that the number of people who volunteered to serve from Sault Ste. Marie exceeds the percentage of those that volunteered from other cities," Healey said.
"Canada has been involved and punched above its weight level in helping other people obtain their democratic rights and freedoms," Healey said.
"Canada is a peacekeeping nation but we're also peacemakers…and a lot of that has been done without conscription, by voluntary effort."
"That has to be recognized," Healey said.
Images courtesy of Clyde Healey