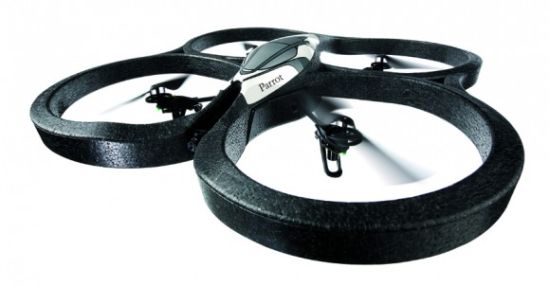 NEWS RELEASE
ALGOMA UNIVERSITY
Editor's note: although flying helicopters (like the one shown) with your brain is a perfectly acceptable application of computer science it may not be a guaranteed part of Algoma University's official curriculum. However, we at SooToday.com believe it would be a nifty part of the fourth-year Bachelor of Computer Science Program at Algoma University called Human-Computer Interaction. Besides, there's a pretty awesome video of students flying robotic helicopters with their minds we've been just waiting for an opportunity to share with you.
**************************
Algoma University to Host Computer Science Information Night
Learn about the Accelerated Program on February 7
SAULT STE. MARIE, ON - Are you looking for a new career or are interested in technology?
College and university graduates interested in expanding their credentials should attend Algoma University's Accelerated Computer Science Degree Information Night onWednesday, February 7 at 7:00pm in the Doc Brown Lounge (EW205).
Students in the program will study toward either a Bachelor of Arts or a Bachelor of Science in Computer Science, depending on their prior credentials.
They will begin their studies in May, taking accelerated classes throughout the spring and summer terms, before joining regular programming in the fall.
They will complete the program by April 2015.
Market indicators suggest that students with a background in Computer Science are quickly employed after graduation, and their average starting salaries are higher than almost any other degree.
"There is a need for specialists in the field of computer programming. Obtaining computer-oriented skill development will help both the unemployed and underemployed in an effort to expand their employment prospects. This program affords students an opportunity to quickly develop a skills set that will add value to their resume, and their self-worth," said the Registrar of Algoma University, David Marasco.
Students who choose to enroll in the accelerated program can earn their Computer Science degree in as little as 12 months.
Students will learn software development, android programming, data structures, database programming, assembly learning programing, operating systems, networking, and much more.
To be eligible for the program, students must possess a bachelor's degree in an unrelated field or a diploma in computer science.
For more information, please contact Prospective Student Advisor Jenn Reid atjennifer.reid@algomau.ca or at 705-949-2301, Ext. 4217.
About Algoma University
Algoma University offers a wide variety of liberal arts and sciences degree options including programs in Psychology, Social Work, Computer Science, Business Administration, Fine Arts, Community Economic & Social Development, and Biology in Sault Ste. Marie, Brampton, Timmins and St. Thomas.
As a partner with Shingwauk Kinoomaage Gamig, Algoma U is committed to respecting Anishinaabe knowledge and culture.
Algoma University has launched its Essential Elements Campaign to expand its campus and offer more scholarships and awards to students.
To learn more, visit www.algomau.ca
*************************