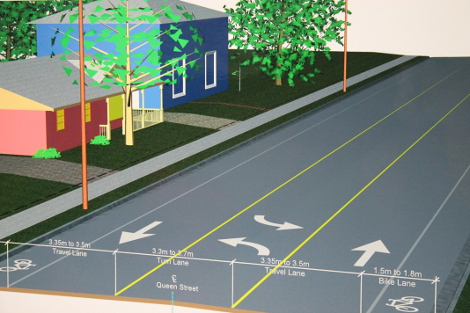 The Sault Ste. Marie Civic Centre's Russ Ramsay Room was the location for a well-attended open house Thursday.
Members of the public met with City of Sault Ste. Marie Engineering and Planning staff and local representatives of AECOM Canada, an engineering/consulting firm working with the City on a proposed reduction of a portion of Queen Street East from its current four lanes down to three.
The proposed reduction from four lanes to three, with bicycle lanes, would extend from Pim Street to east of Gravelle Street (near the Sault Ste. Marie Golf Club) within existing pavement widths.
It would consist of one lane in each direction with a continuous two-way left turn centre lane, with bicycle lanes adjacent to each curb (shown).
It would also include a 2.5 metre wide boulevard trail on the south side of Queen Street from Pine Street to Lake Street to complete the John Rowswell Hub Trail in that area.
The boulevard trail is not considered appropriate for the area east of Lake Street because of the number of private driveways and other entrances along that stretch of road.
The plan is considered by the City and AECOM as the preferred option.
Thursday's open house stemmed from a 2007 Sault Ste. Marie Cycling Master Plan Update, which consisted of public input and was approved by City Council.
In 2008 a Transportation Planning Consultant, retained by the City, concluded it was feasible for Queen Street to be reconfigured from four lanes down to three, with provisions for cyclists, based on projected reduced traffic volumes for the area.
A proposal to convert Queen Street from four lanes to three lanes with bicycle lanes from Pim Street to east of Gravelle Street was discussed at a previous open house held in November 2011.
Public interest shown at that first open house led to Thursday's event, described as part of a Class Environmental Assessment (or a "Class EA"), as a chance for the public to comment on alternative solutions.
One alternative was to do nothing and keep Queen Street as is, another involved three lanes plus bicycle lanes and widening the existing pavement east of Pine Street, and another involved establishing an off-road boulevard trail along the length of the project while keeping the current four lane configuration.
AECOM Engineer and Project Manager Rick Talvitie, speaking to SooToday.com Thursday, acknowledged the project has its pluses and minuses for many people.
Talvitie said: "Generally speaking I'd say the majority of people who visited (Thursday's open house) are in favour of converting Queen Street from four lanes to three lanes."
"We've certainly had a lot of visits from avid and recreational bicyclists, and I think there's a general consensus that travelling down Queen Street on a bicycle in its current configuration is dangerous and uncomfortable for cyclists."
"For those that are opposed, there are some who feel that there may be some increased delay in getting in and out of their driveways, certainly there's the issue that they're going to lose the 'on street' parking, and I think some people generally like to have the option of being able to pass vehicles, which the current four-lane allows you to do."
City of Sault Ste. Marie Director of Engineering Services Don Elliott said funding for the Queen Street conversion from four lanes to three is already there.
"It is in the capital budget…the primary cost here is resurfacing Queen Street, and we have that in our 2014 capital budget."
"The issue about four lanes versus three lanes is really just 'how do we paint the lines?' so there's no significant difference in capital costs."
Approximately $2 million has been put aside by the City for the project, Elliott said, adding that he, like Talvitie, observed that "most people seem to be in favour of it."
"Most of the feedback is positive," Elliott said.
Comment sheets were provided to the public Thursday, and written comments will be accepted by Project Manager Rick Talvitie at AECOM's 523 Wellington Street East office until February 21.
Once AECOM reviews public input, it will finalize its preferred solution and compile a report that will be forwarded to all that expressed interest, with 30 days allowed for review.
If no "significant" concerns or objections are received during that 30 day period, the City may proceed with the project.
The project is expected to go to tender in March, with the project tender awarded in April, subject to City Council's approval.
Construction would begin in May (with some necessary road closures and detours throughout the process) and be completed by the end of October.