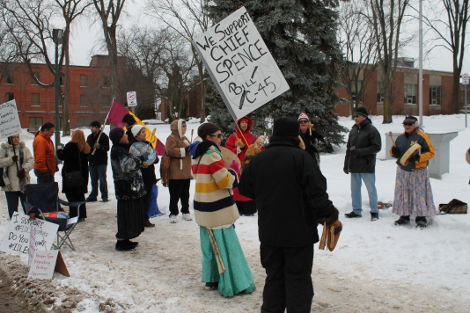 The Idle No More movement continues locally.
A group of peaceful First Nations demonstrators gathered in front of the Sault Ste. Marie courthouse on Queen Street East Friday afternoon, to protest the federal government's aboriginal affairs policies, particularly as they are laid out in Bill C-45.
The nationwide Idle No More movement of peaceful protests is in reaction to Bill C-45, the federal government's recently passed omnibus budget bill, which First Nations communities consider an environmental threat to their lands and waterways and an easier way for corporations to take resources from First Nations lands.
The movement is also in support of Attawapiskat First Nation Chief Theresa Spence, who on Friday was in the 25th day of a hunger strike, in a drastic effort to force an aboriginal issues meeting between First Nations officials and Prime Minister Stephen Harper.
It was announced Friday that a meeting between Harper and First Nations Chiefs will take place January 11th, although it is not clear if Spence will end her hunger strike, as she awaits the outcome of the meeting.
A mixture of Garden River and Batchewana First Nations band members, as well as local aboriginals and students, gathered in front of the courthouse Friday.
Batchewana First Nation resident Barbara Day told SooToday.com "we want to raise awareness of Idle No More in Sault Ste. Marie."
"Bill C-45 was dictated not only to First Nations, but to all Canadians. We were not consulted," Day said.
"Those are very dangerous political tactics the Prime Minister is using," Day said, in referring to the omnibus bill.
"What it means for us is that our land and waters can be taken by mining corporations… all Canadians should be concerned and standing up."
Day stated "we're not against capitalism and development, but what we're against is when these big companies come in and do a lot of environmental damage…First Nations suffer damage, and we've been sloughed off by Prime Minister Harper through Bill C-45."
First Nations lawyer and activist Pam Palmater has suggested Harper wants First Nations communities to be broken up and First Nations peoples assimilated.
Day agrees with Palmater's assessment.
"That's the plan of the Harper government, to eliminate us from the political scene, and that's why our people are standing up with Idle No More."
Day stated "we would like to see a peaceful solution, for our leaders to come together, it has to happen soon, to deal collectively with First Nations issues. This is not just a First Nations matter. A piece of legislation can come along and be put on people. Canada is a democratic society, and this should not be happening in this day and age."