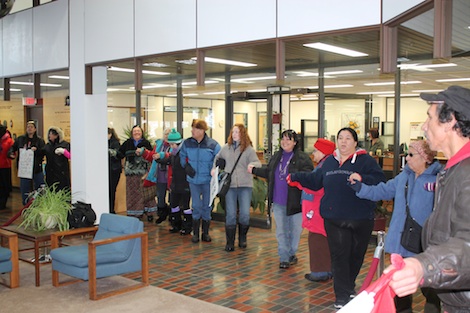 In a surprising turn of events, Idle No More protestors entered the lobby of Sault Ste. Marie's Civic Centre Monday afternoon, where they stayed for approximately 30 minutes as they sang, drummed and danced.

The event was non-violent, but came as a surprise to Civic Centre staff.

An agreement with the City recognized that Idle No More protestors could hold a gathering on the outside steps of the Civic Centre after conducting a planned, peaceful march from the Indian Friendship Centre on East Street, along with a water ceremony on the waterfront on the Civic Centre's south side, but the rally participants' entry into City Hall was looked upon as a disruption.

SooToday.com will have more details on today's Idle No More rally soon.