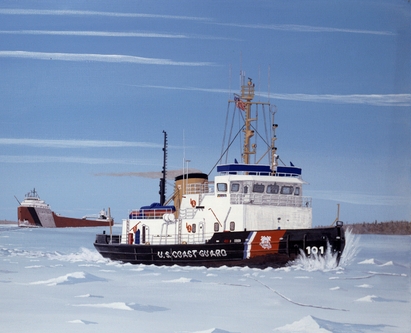 NEWS RELEASE
UNITED STATES COAST GUARD
*************************
St. Marys River ice breaking operations
Commencing the morning of 25 Feb 2014 through the remainder of the week, the United States Coast Guard will be breaking ice in the St Marys River in preparation for a tank vessel transit.
Ice breaking operations will extend from Sault Ste Marie down to Detour Reef Light via the Middle Neebish Channel.
The U.S. Coast Guard Cutter involved will be the Katmai Bay, homeported in Sault Ste Marie.
All Terrain Vehicle (ATV) operators, snowmobiler's, and other recreational users of the ice should avoid any proximity to the shipping channels, plan their activity carefully, and use caution near the ice.
Additionally, all ice fishermen should remove their ice shacks from areas close to the shipping channels.
Further inquiries can be made by phone to Sault Vessel Traffic Service at (906) 635-3232 or via email at SOOTFC@USCG.MIL
*************************