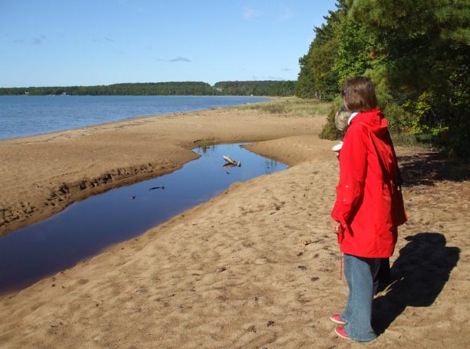 Sault Ste. Marie MPP David Orazietti, in his role as Ontario Minister of Natural Resources, hosted a meeting of Canada's Parks Ministers in Toronto Friday.
The meeting was co-chaired by Canada's Environment Minister Leona Aglukkaq (also Minister responsible for Parks Canada) and Alberta Minister of Tourism, Parks and Recreation Dr. Richard Starke.
The Ministers representing the federal government, provinces and territories (with the exception of Quebec, which did not participate in the meeting) announced in a joint statement they will work together to encourage Canadians to get out and enjoy nature in Canada's parks.
In wrapping up Friday's meeting, Orazietti said: "It is incredibly important to ensure that we have more people in Canada enjoy the outdoors and appreciate nature and we need to start building that connection with our younger audiences and the children of this country…I'm looking forward to working with my colleagues across Canada to continue this discussion concerning effective ways in connecting Canadians to nature."
Speaking to SooToday.com, Orazietti said: "A parks conference like this has not taken place since 2007."
"There is a renewed commitment to meet more frequently, and the ministers and their deputies will work more closely, sharing best practices (in regards to encouraging Canadians to enjoy visiting the nation's parks)."
A report by the Canadian Parks Council, entitled Connecting Canadians with Nature: An investment in the well-being of our Citizens, has outlined the importance of Canadian parks to the economy (tourism jobs and tourist dollars) and the physical and mental health benefits to those who use Canada's parks.
The report stated enjoyment of the outdoors can lower blood pressure, strengthen the immune system, reduce stress, assist in healthy physical and mental development of children, reduce time needed to recover from surgery, and reduce need for medications.
The report states there is a definite need to get this message across, as 80 percent of all Canadians now live in cities, and spend 90 percent of their time indoors with a sedentary lifestyle, which leads to a host of chronic health problems.
The Canadian Parks Council encourages federal, provincial and territorial governments to use social media to get young people in particular attracted to parks, as well as promoting awareness of parks through schools, conservation authorities, cultural institutions and youth clubs.
The different levels of government are encouraged to use music, technology and art to attract visitors of all ages (including newcomers to Canada not familiar with our outdoors) to Canadian parks, along with "learn to camp" and "learn to fish" programs for young people.
Ontario has 330 provincial parks, more than 100 with visitor facilities, and many with barrier-free facilities.
Provincial government figures state that in 2012, Ontario provincial parks received more than 8.5 million visits, pulling in $69 million in revenue.
Orazietti told us that Ontario currently has a number of initiatives, such as the Ontario Children's Outdoor Charter (operated with the help of seven not-for-profit partners) which promotes activities at Ontario parks, that the province operated over 1,000 nature programs last year for 37,000 children, and that Learn to Camp and Learn to Fish programs are in place to help educate city dwellers about life in the outdoors.
"We have sponsors from Canadian Tire and other companies that are putting resources behind trying to connect young people with nature…we talked about how we can bring industry and business to partner with government and work more closely with the education sector about the benefits of being outdoors and experiencing nature."
In a news release Friday, Orazietti's office specifically mentioned Batchawana Bay and Pancake Bay Provincial Park as ideal local spots for people to enjoy.
In 2012, Batchawana Bay was closed a month earlier than usual by the MNR (when Michael Gravelle served as Minister of Natural Resources) and was reopened after public and political pressure was put on the Liberal government of Ontario.
In addition, promoting appreciation of Canada's parks by the Ontario government will no doubt be met with criticism by those who have insisted, for the past few years, that long-available access to certain Crown lands has now been deliberately restricted by the provincial government.
To that, Orazietti replied that the Ontario Ombudsman's office, in 2008, found there were no outstanding conflict of interest or management issues involving Crown land.
Orazietti added: "If individuals have issues over road access, I'm happy to discuss that."
"I want to see as much Crown land access as possible, it's not something we should be limiting," Orazietti said.