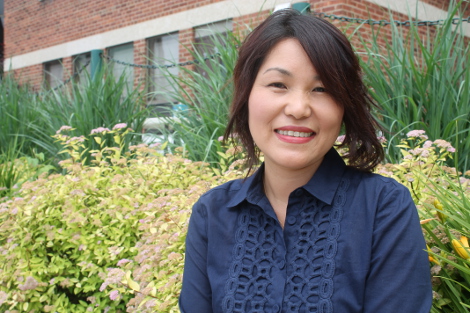 Eunjung Riauka came to Sault Ste. Marie from South Korea in 1998 originally planning to study English as a Second Language (ESL) for one year, but after meeting her future husband here, she has been a happy permanent resident of the community since May 2001.
Eunjung, an intelligent and articulate lady with a warm, sunny personality, has been employed at Algoma University since 2008, currently working as the postsecondary institution's Records and Admissions Specialist, and helps coordinate Algoma's exchange student program.
Eunjung's command of the English language is superb.
While studying ESL in Sault Ste. Marie, she was already an English Language and Literature student (with an interest in 18th century English novels) at Keimyung University in Daegu, South Korea.
Sharing her story with SooToday.com, Eunjung says she had an interest in the English language prior to that.
Because of the large number of U.S. military personnel stationed in South Korea (an estimated 30,000 of them), there was a separate TV channel dedicated to American programming.
She recalls her father enjoyed watching American sports and cowboy movies.
"I grew up watching and listening to the English language. I liked the sound of it."
Arriving in Sault Ste. Marie, Eunjung says: "I met beautiful friends, and through my church (Christ Church, an Anglican congregation situated on Allens Side Road) I met my future husband."
She returned to South Korea to complete her postsecondary studies and also gained a teaching credential.
Eunjung taught in South Korea for two years while keeping in touch with her future husband Randy (an employee in Sault College's Information Technology department).
Randy travelled to South Korea to be with Eunjung and taught ESL, and the couple married there in October 2000.
The couple returned to Sault Ste. Marie in May 2001.
Now a mother of two daughters, Eunjung says: "my life in Sault Ste. Marie has been wonderful."
What does she like best about Sault Ste. Marie?
"It's the authentic Canadian feel you get here that you don't get in Toronto or other big Canadian cities," Eunjung replies without hesitation.
"When people come to Sault Ste. Marie they feel 'this is Canada!' Beautiful nature, trees everywhere, Lake Superior... you don't see that in big cities."
Eunjung says she misses her parents in South Korea but keeps in contact with them.
She also misses Korean food.
"I love Korean food. It can take two hours to prepare a Korean dish, but it's always fresh, nothing out of a tin."
One of the strengths that Koreans bring to the Canadian multicultural mosaic, Eunjung told us, is that "Koreans are very respectful toward authority, respectful to elders. That's a part of our culture I'm very proud of. Their respect for older people is still a big part of Korean culture."
"When I came to Canada I was very shocked to see how some young people treat their elders. I was at a funeral and a 12-year-old boy was sitting in his seat playing a videogame and an old gentleman, who was obviously not in completely good health, did not have a seat and was standing right beside him."
"Most Koreans would jump out of that seat and give it to that elderly person. Even if the elderly person is standing on the other side of the room, you would walk over and tell that elderly person to come over and take your seat."
Does it bother Eunjung that the Korean peninsula, 60 years after the end of the Korean War, is still divided into a prosperous, democratic South Korea and a grim, isolated North Korea governed by a particularly harsh Communist government?
"The ordinary North Korean civilian suffers from the stupidity of the regime," she stated.
"North Korea is based on a whole pseudo-religion. The leader (Kim Jong-un) portrays himself as a god. The regime takes away the freedom of the people to think."
If that regime ever falls, Eunjung doubts there will be a relatively easy reunification, like that of West and East Germany after the Berlin Wall came down.
"There are deeper problems with the two Koreas," she says, adding that North Koreans simply do not know what life is like outside that isolated Communist state.
"If and when that wall comes down, North Koreans will still suffer from the depression of Communist rule. We will have to help those people," she says.
Referring to her work at Algoma U, Eunjung says: "my passion is the exchange student program. That's what I promote. Having that type of experience in your education is amazing."
"I enjoy working as a staff member at Algoma. As our university slogan indicates, I do feel 'I belong here."
Eunjung, who has also worked in accounting, as a secretary, and as a librarian, adds: "I appreciate Algoma U for providing me with the opportunity of contributing my expertise, skills and knowledge to the institution not only professionally, but also personally."
Eunjung says: "I hope Algoma will continue to encourage the recruitment of a diverse student population so that it helps to break down any prejudice or preconceived notions people may have in regards to different cultures or races."