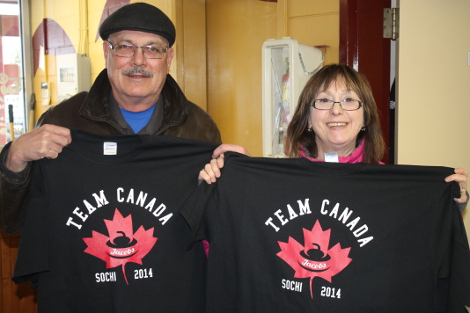 Rick and Linda Boucher (pictured) were delighted to purchase Team Canada Sochi 2014 Jacobs T-shirts at the Soo Curlers Association building on Anita Boulevard late this afternoon.
If you want to get yours, hurry!
The T-shirts, to show pride and appreciation for Sault Ste. Marie's own Team Jacobs as our boys get ready to go for the gold medal in the Winter Olympics men's curling final against Great Britain Friday morning, were selling at an incredible rate.
Rick and Linda told SooToday.com they had heard from friends that a limited number of shirts would be available for sale ($15 each) at Soo Curlers, and were fortunate to get theirs at 4:30 p.m.
By that time, a batch of 200 T-shirts had already been sold today alone.
At 5 p.m., Soo Curlers Club Co-ordinator Ian Fisher and the staff were expecting 200 more from the Sault's SK Group.
People lined up in the Soo Curlers front entrance, on a first-come, first-served basis, to place their orders for the last 200 before Friday's big game.
Telephone orders were not being accepted.
Soo Curlers will be open until 9 p.m. tonight.
Fisher told us: "I think they'll all be gone by nine o'clock, or there may be some left over for sale in the morning."
Fisher said prior to Thursday, over 900 Team Canada Sochi 2014 Jacobs clothing items (T-shirts, sweatshirts and fleece jackets), made by SK Group, had been sold by Soo Curlers.
Part of the proceeds from the sale of the clothing items will go to junior curling programs at Soo Curlers.
Fisher reminded us that Soo Curlers will be open at 7 a.m. Friday for anyone who wants to enjoy watching the final game and enjoy good food in the club lounge.
"We've got nice comfortable chairs, a great cook and a great breakfast special and lots of TV sets set up, and we're expecting a big crowd."