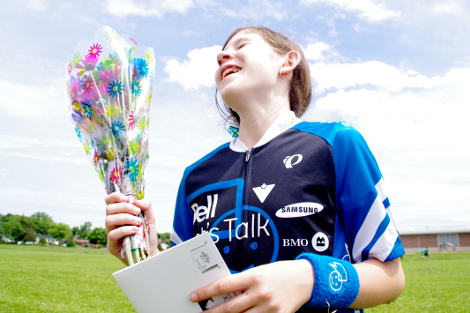 Hundreds of Rosedale French Immersion students took to a nearby field on Wednesday to salute the sun, and to salute the efforts of Olympian Clara Hughes whose cross-country mental health awareness campaign reached the Sault this week.
The students performed the sun salutation yoga pose simultaneously to honour Clara's Big Ride, and to celebrate having raised nearly $600 for the anti-stigma campaign.
Grade 5 student Avery McMillan kicked off the fundraiser and had the chance to meet Hughes at an Algoma Family Services event in the Sault on Tuesday night.
Hughes presented her with a Clara's Big Ride jersey, which McMillan donned for Wednesday's ceremony.
McMillan said she was surprised when Hughes let her try on her Olympic medals.
"I couldn't stop laughing for some reason," said McMillan.
Hughes is currently on her way from the Sault to Blind River, having reportedly stopped to chat with onlookers in Garden River First Nation this morning.
For more on Hughes' visit to the Sault, check out our coverage on LOCAL2.ca.
(PHOTO: Avery McMillan laughs as she poses for photos following Wednesday's ceremony. SooToday.com/Michael Purvis)