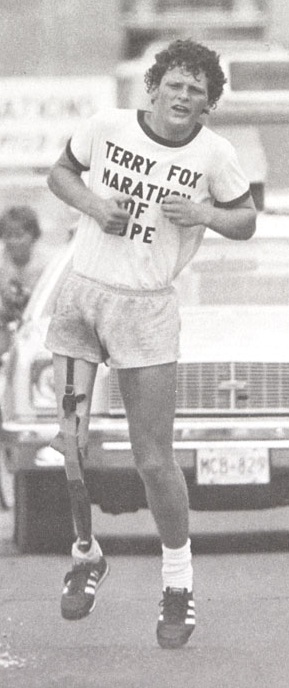 NEWS RELEASE
TERRY FOX RUN
*************************
On Sunday, September 14, join hundreds of Saultites and hundreds of thousands of persons around the world in support of cancer research, remembering Terry Fox, one of Canada's favourite heroes.
The Sault Ste. Marie run will commence at the Roberta Bondar Pavilion at 10 a.m., with registration beginning at 8:30 a.m.
The event features a run, walk, wheel, or ride along the city's beautiful waterfront.
You can come by and participate any time before noon.
As always, there is no minimum donation and no entry fee, everyone is welcome!
There are many ways to support this fundraiser for cancer research:
You can donate online at http://www.terryfox.org. For participants who have donated online – simply type in the person's name or the team name once you choose the "Donate Now" icon.
Donate to the Sault Terry Fox Run, without naming a particular participant or team by using this hyperlink
Pick up pledge sheets at the Athlete's Foot in the Station Mall, various locations throughout the city, or from the website http://www.terryfox.org and collect pledges from friends, family, and co-workers.
Show up on the date of the event and show your support for various activities such as the silent auction, kid zone, BBQ, or just make a donation. Make it a fun day for the entire family with activities available such as face painting, or grab a bite to eat by purchasing a hamburger or hot dog.
Sault Ste. Marie has raised over $450,000 since the first run was held in 1981.
Last year, there were more than 600 participants and almost $40,000 raised.
This year, our goal is to raise one dollar for every person in the city.
Show your support for Terry's legacy, "I want to try the impossible to show that it can be done."
Marathon of Hope: By the numbers
Days Fox ran: 143
Kilometres run: 5,373
Average km per day: 37.57
Amount raised for cancer research during run: $1.7 million
Amount raised by his death, June 28, 1981: More than $24 million
Amount raised during first Terry Fox Run, Sept. 13, 1981: $3.5 million
Amount raised in 34 years of Terry Fox Runs: $650+ million
Amount raised in Sault Ste. Marie in 2013: $40,000
Amount raised in Sault Ste. Marie since 1982: $463,000
84 cents of every dollar raised goes directly to cancer research
*************************