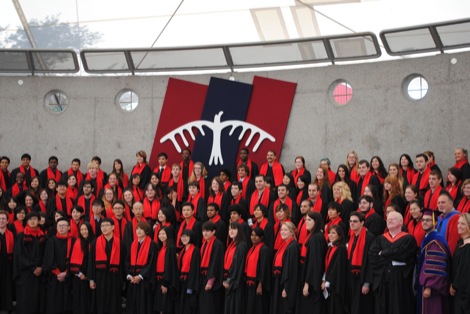 NEWS RELEASE
ALGOMA UNIVERSITY
***************************
Algoma University's first induction ceremony "wraps" up
New students welcomed to Algoma's close-knit family and presented with a university scarf
SAULT STE. MARIE - Earlier this afternoon, Algoma University and Mayor Debbie Amaroso officially welcomed new students at the first annual induction ceremony at the Roberta Bondar Pavilion.
With hundreds of students and their guests in the audience, and faculty in full regalia on stage, each new student was called forward to receive a token of the university's appreciation and to sign the official register.
"The induction ceremony is seen as a means of formally welcoming new students into the Algoma University family, helping them to feel more connected to their new community" said Dr. Richard Myers, president Algoma University. "It was quite consciously modelled on the convocation ceremony - to give students a clear picture of that day in their minds to help motivate them over the next few years towards degree-completion."
Dr. Myers said in his address to the new students: "One of the benefits of a small university is that we provide you with personal attention; that we treat you as an individual."
With that, each new student was called to the stage for their own personal moment, where they were donned with a special induction scarf sporting the university logo and the iconic symbol of the Thunderbird.
Mekaela Comery, a first year Psychology student, said: "I had to Google what an induction ceremony was, but I was really excited to be a part of the first one! There really is a close-knit family feel at Algoma. My friend tweeting from an Ottawa University said there are 400 people in her math class, but at Algoma University, I'm definitely not just a number, and I totally feel like I belong."
Comery's parents are both alumni, and her proud grandmother was in the audience to see her cross the stage.
For many of the new international students, this may be the only winter scarf that they own.
President Myers estimates that around thirty percent of the incoming student body is from abroad.
Aside from perhaps keeping students warm this winter, the induction gift is reminiscent of a soccer fan scarf, and the university hopes to see many of these waved in the audience at the OUA exhibition games for basketball and soccer this year.
About Algoma University
Algoma University offers a wide variety of liberal arts and sciences degree options including programs in Psychology, Computer Science, Business Administration, Fine Arts, Community Economic and Social Development, and Biology in Sault Ste. Marie, Brampton, Timmins and St. Thomas.
As a partner with Shingwauk Kinoomaage Gamig, Algoma U is committed to respecting Anishinaabe knowledge and culture.
Algoma University has launched its Essential Elements Campaign to expand its campus and offer more scholarships and awards to students.
To learn more, visit
www.algomau.ca
.
***************************
Pictured: First year Algoma U students received university scarves at the Algoma's first annual induction ceremony this afternoon