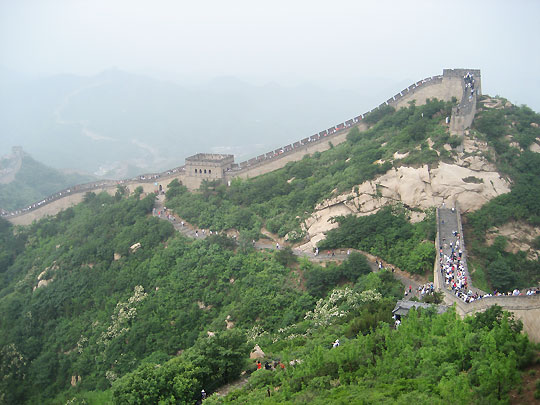 NEWS RELEASE

LAKE SUPERIOR
STATE UNIVERSITY

*****************************
Community members welcome on LSSU trip to China

SAULT STE. MARIE, MI - Lake Superior State University is once again welcoming members of the community who are interested in traveling to China this summer as the "fun" part of a study abroad program that it is offering to students.

Students will study at Beijing University of Technology from May 6 and then will join community members taking part in a 17-day tour from May 27-June 12 of historic and scenic attractions in four popular tourist destinations, including Beijing, Xi'an, Shanghai and Hangzhou.

In Beijing, participants will visit World Heritage sites such as the Great Wall, the Forbidden City, the Temple of Heaven, the Summer Palace, the Bird's Nest 2008 Olympic site, and will watch a night show of folk dance and music, and a Beijing opera.

The participants will then take a three-day trip to the ancient capital city of Xi'an and see the world-famous Terra-Cotta Warriors that were buried more than 2,000 years ago, as well as the ancient City Defense Wall, the Bell Tower, a Tang Dynasty-style dance and music show, and more.

A five-day stay in Shanghai includes visits to Shanghai Museum, the 468-meter Shanghai TV tower, 450-year-old Yuyuan Garden, a Huangpu River cruise, an acrobatic show, and more.

Finally, during a two-day trip to Hangzhou, which is an ancient capital and famous scenic tourist attraction, participants will tour the beautiful West Lake area, including a lake cruise, visit to a tea plantation, and much more.

For $3,845, the 17-day tour fee covers round-trip airfare, lodging, lunches and dinners, transportation in China, travel insurance, admission fees to attractions and more.

The cost of the trip does not include visa application fees, medical insurance, drinks, laundry, independent travel and personal expenses, nor vaccination fees, although vaccinations are not required to enter China.

Deadline for applications, application fee of $25 and a deposit of $1,600, are due by February 5.

Total payments are due April 23.

The easiest way to get the paperwork rolling is to enroll online at lssu.edu/studyabroad, where you will find an application form that may be submitted to LSSU Financial Aid and Study Abroad Director Deb Faust, 650 W. Easterday Ave., Sault Ste. Marie, Michigan, 49783.

For more information on the tourist trip as well as the study-abroad program for students, please contact LSSU Prof. Guidi Yang at gyang@lssu.edu or 906-635-2181, or stop by her office at 22 Brown Hall on campus.

*****************************
Photo by professor Guidi Yang for LSSU.