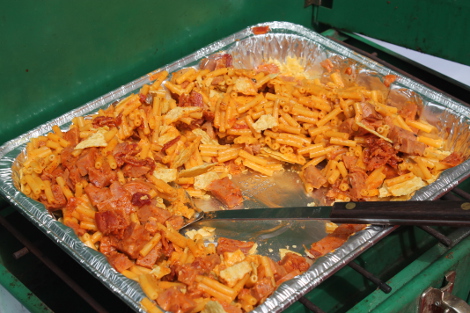 Four local teams took part in the second annual Canadian Red Cross and Walmart Disaster Dining Challenge, held outside Walmart on Great Northern Road Thursday afternoon.
Teams from the Canadian Red Cross (Sault Ste. Marie and District branch), Sault Walmart, Sault Ste. Marie paramedics and Sault Search and Rescue were given 30 minutes to prepare a dish, without electricity or tap water.
Teams were allowed to use Kraft Dinner, canned meat, fruit, vegetables and a variety of other non-perishable food items, using bottled water and a propane stove, to prepare a meal.
The idea behind the competition, other than to challenge each team's resourcefulness in a fun way, was to remind participants and the audience that every family must be prepared to stock up on non-perishable food, bottled water and have a propane stove on hand (or, if outside of course, a barbecue) to feed itself in a time of disaster.
"A prolonged power outage would be the first type of emergency that would happen in our area, and we've had some big snowstorms as well…you should be prepared for a couple of days of feeding yourself and keeping warm," Sault Search and Rescue's Ken McAuley told SooToday.com.
Search and Rescue, McAuley said, is coordinated with the Red Cross to give people shelter in school auditoriums or the Sault Ste. Marie Armoury if they are displaced by disastrous happenings such as floods.
"Absolutely it's possible (to feed yourselves in a disaster) as long as you have the right canned foods in store with a barbecue or Coleman stove and bottled water," McAuley said.
While Sault Search and Rescue seemed to have an edge (they won the competition), each team clearly enjoyed the challenge of preparing something edible and tasty without electricity and tap water within a 30-minute time frame.
"It was very hard, but it was interesting," said Bailee Walls of the Red Cross.
"You just have to be very creative."
"I don't think a lot of people have the right stuff stored in their basements…you need canned food, bottled water and a propane cooker," Walls said.
City councillors Pat Mick and Lou Turco, Lauren Perry, Sault Ste. Marie community emergency management coordinator, Rocco Celetti, Sault Fire Services fire prevention officer, and Roger Lord, from the office of the Fire Marshal and Emergency Management, served as the competition's judges.
Each winning team was presented with a plaque in honour of its efforts.
Sault Search and Rescue won the award for best overall dish and winner of Disaster Dining 2014, serving up a spam taco casserole (pictured), flavoured with macaroni and cheese, salsa and other spices.
Team Red Cross took the award for best presentation (a 'hamburger' made of canned meat and mushroom soup).
Sault paramedics received the nod for best flavour for their offering of tacos with bean salad and chocolate peanut butter balls.
While not receiving any honours this year, Team Walmart prepared a hearty-looking stew filled with corn, green beans, noodles and other ingredients.
Thursday's event took place just before a Walmart fundraising campaign (August 7 to 29) to support Red Cross disaster relief operations.