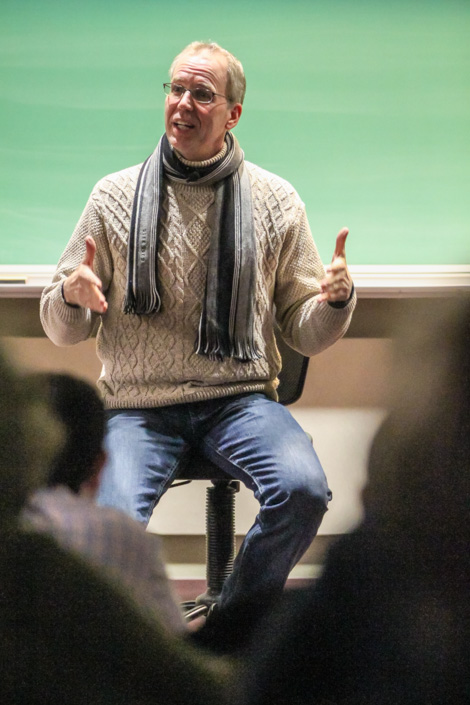 One night in November 2004, Frank Warren had a crazy idea.

He drove into Washington, DC with 3,000 self-addressed blank postcards and attempted to solicit never-before revealed secrets by handing these postcards out to perfect strangers.

Some people chose to ignore him and walk by, others took the postcards, and some even told him they didn't have any secrets.

Warren didn't fully understand why he was doing what he was doing, nor could he foresee the importance and gravity of what the project would become.

Once anonymously submitted secrets began arriving in his mailbox, the idea stopped feeling so crazy, he told his audience last evening at Sault College.

"Sometimes we think we're keeping a secret, when that secret is actually keeping us," Warren said. "It could be undermining our relationships with other people. It could be blocking us from being who we truly are in ways that we can't even see until we unbury that part of our past that we're hiding from."

As the number of secrets delivered to him steadily increased, he began scanning them and posting them to his blog, PostSecret.com.

After a month of receiving postcards, Warren's wife told him: "Thanks, Frank. Now we can never move from our house."

"There is this feeling of connection, of accidentally tapping into something that had been there the whole time," he told the audience at last night's sold out event. "Something that I don't fully understand that's a wonder and a mystery at the same time."

Warren's original goal was to have 100 strangers submit secrets to him.

Almost 10 years after launching his project, Warren now has a pyramid of more than half a million postcards stacked in his home, and PostSecret is the most widely-read advertisement-free blog on the planet with more than 650 million hits.

They come to him from across the globe in a variety of languages.

They have changed lives, saved lives and brought people together.

"It's surprising how much commonality there is with our secrets, even cross cultures, even cross language barriers," Warren said.

But he doesn't only receive postcards.

Individuals have mailed secrets scrawled on a variety of objects, some of the more interesting being disposable coffee cups, wedding announcements, a bra, a flip flop, a bag of coffee beans, and an uncooked Idaho potato.

The messages disclosed range from outrageously silly to deeply saddening and express feelings of hope, joy, longing and despair.

Approximately three months into the project, Warren received a PostSecret that he said changed everything.

Rather than a postcard, someone had mailed him a photograph of a broken bedroom door.

On that photo was written: "The holes are from when my mom tried knocking down my door so she could continue beating me."

"When I got it, I posted it on the web, and I wasn't ready for what happened next," he explained. "That day, dozens of young people emailed me their stories, sending me pictures of their broken bedroom doors."

After posting all of the broken door photos to his blog, he remembered having one of those doors as a child and began to understand that there are two kinds of secrets - those we keep from others, and those we hide from ourselves.

He then realized that he was struggling with secrets of his own, and the PostSecret project was his way of reconciling events from his past.

Following his presentation at Sault College last night, spectators were invited to share some secrets of their own.

Suicide was a common theme.

On the PostSecret website, visitors will find a link to the International Suicide Prevention Wiki, "a worldwide directory of suicide prevention hotlines, online chat, text-lines, and resources."
Last night's event was a joint presentation of the Mental Health Fund, Sault College Student Services, and the Sault College Student Union.

For more about Frank warren and PostSecrets, please click here.