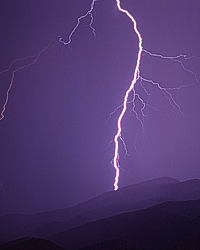 NEWS RELEASE
ENVIRONMENT CANADA
*************************
Lightning Safety Week June 9-15

During the summer in Canada, lightning strikes on average every three seconds.
Besides causing power outages and forest fires, lightning strikes can also seriously injure or kill.

The Canadian Lightning Danger Map displays high risk lightning areas in red.
These maps are updated at an interval of 10 minutes and are based on recent lightning observations.
The Canadian Lightning Danger Map can be found on weather.gc.ca and is accessible on mobile devices.

If the map indicates red areas over your location or if you hear thunder, then you are at risk of being struck by lightning, you should go to a safe location, either a building with plumbing and wiring or an all metal vehicle and stay there for 30 minutes following the last rumble of thunder.
Why stay inside so long? Research in North America shows that 1/3 of lightning injuries and fatalities occur in the early stages of a storm, 1/3 at the peak of a storm and 1/3 once the peak of the storm has passed by.

Are you planning a camping trip this summer? Do you spend time boating or waterskiing? Are you organizing an outdoor public event?
Visit the Lightning in Canada website to find the latest lightning preparedness tips and how to stay safe.

Environment Canada issues Severe Thunderstorm Watches and Warnings when severe weather such as large hail, strong winds, heavy downpours, or even tornadoes are possible.
When planning outdoor activities this summer, it is important to listen to weather forecasts, and to keep an eye on the sky as weather conditions can change quickly.

Please contact your regional Warning Preparedness Meteorologist if you have questions or need more information on Lightning Safety Week, on the Canadian Lightning Danger Map or Lightning in Canada.

For more information: Warning Preparedness Meteorologist: 1-866-672-5463, Lightning in Canada website or Canadian Lightning Danger Maps: http://weather.gc.ca/lightning/index_e.html

Remember the lightning safety rule: When thunder roars, go indoors!
*************************