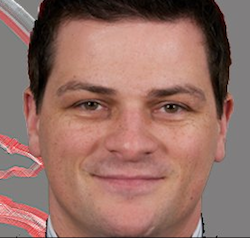 NEWS RELEASE
SOO GREYHOUNDS
*************************
Stapleton relieved of duties; Keefe named Hounds new head coach
Soo Greyhounds General Manager Kyle Dubas announced early Monday morning that Mike Stapleton was relieved of his coaching duties and Sheeldon Keefe [shown] has been named the team's new head coach.
He becomes the 18th different head coach in Greyhounds team history.
"This was extremely difficult decision. Over the past 20 months working with Mike we have gone through a lot of ups and downs together, and become very close friends. I would like to thank Mike for his hard work and dedication to our program over his time here. These young men here have learned a lot from Mike, and when they look back on their time being coached by Mike they will realize that they have learned a lot about developing as a young man and a hockey player," began Dubas.
The 32-year-old Keefe joins the Hounds after spending the past six seasons as GM/head coach of the Pembroke Lumber Kings (CCHL).
During that time the Brampton, ON native led the Kings to a league record five consecutive championships (2007-2011) accumulating a regular season record of 265-76-20 along with a 67-22 post-season mark.
He became the fastest coach in league history to 200 wins and also guided the Kings to the 2007 and 2011 Fred Page Cup Eastern Canadian Championship and 2011 RBC Cup Canadian Junior A National Championship.
Sheldon was selected by Hockey Canada as an assistant coach of Team Canada East for the 2012 World Jr. A Challenge and was named head coach for the 2011 Canadian Jr. A Top Prospect game.
"In every conversation that I had regarding a replacement for Mike, whether it was with NHL scouts or executives, Hockey Canada personnel, or his competitors at the Junior A level one of the first names that kept coming up with regards to 'best coach available' was Sheldon Keefe," commented Dubas.
"As a young coach, Sheldon has had unprecedented success in Pembroke. He is a proven winner as a head coach and feel that his experiences with Pembroke and Hockey Canada will allow him to have success at the Major Junior Level."
"Sheldon's Pembroke teams are renowned for being well prepared and well structured while playing a high-pressure, disciplined, puck possession style. Given that body of work, I felt Sheldon was the best coach to have our team reach it's full potential," concluded the Hounds GM.
Keefe played two seasons in the OHL between the Toronto St. Michael's Majors and Barrie Colts.
In 1998-99 he was named the OHL Rookie of the Year and later advanced to the Mastercard Memorial Cup with Barrie in 1999-00.
After being drafted 47th overall in the 1999 NHL Entry Draft by the Tampa Bay Lightning he spent 125 games in the NHL before ending his playing career in the AHL in 2004-05.
Sheldon Keefe bio
D.O.B. – September 17, 1980; hometown – Brampton, Ontario
Coaching/management achievements and awards:
CCHL General Manager of the Year 2007, 2009, 2010, 2011 as voted by league general managers

CCHL Coach of the Year 2008 – second in voting 2007, 2009, 2010, 2011 as voted by league general managers

Set a league record with five consecutive league championships 2007-2011

Regular season championships 2007, 2008, 2011 – second by one point in 2009, 2010

Over six seasons a regular season (W-L-T) record 265-76-20 playoff (W-L) record 67-22 (*prior to this

season)

Highest regular season winning percentage and fastest coach to 200 wins in league history

Record of 16-1 in best of seven playoff series

Fred Page Cup Eastern Canadian Champion (2007, 2011) finalist (2008, 2010) semi-finalist (2009)

RBC Cup Canadian Junior A National Champion (2011), semi-finalist (2007)

CCHL coaching alumni include Bryan Murray, Bob Hartley, Jacques Martin and current CHL coaches Eric Veilleux - (Shawinigan/Baie-Comeau), Chris Byrne (Ottawa) and Todd Gill (Kingston)

Two players drafted directly to NHL – Matthew Peca (Tampa Bay), Jamie Phillips (Winnipeg)

Selected by Hockey Canada as assistant coach of Team Canada East for 2012 World Jr. A Challenge

Selected by Hockey Canada as head coach of 2011 Canadian Jr. A Top Prospects Games in Langley, BC

Attended 2012 Hockey Canada Program of Excellence Coaches Conference in Calgary, AB

Named Upper Ottawa Valley Young Entrepreneur of the year in 2011 as owner of Lumber Kings

Named Renfrew County United Way 2011 Honorary Fundraising Campaign chairman
Other notes:
During the 2004-2005 season while playing for the Utah Grizzlies, he was named the winner of the American Specialty/AHL Man of the Year award for his outstanding contributions to the Greater Salt Lake Valley community and charitable organizations.
He was the leader of the Grizzlies *Go For The Goal* program that taught area elementary school children life lessons including stay in school, say no to drugs and strive for academic excellence.
In addition, Sheldon participated in numerous stops on the *Gather with the Grizzlies* library reading tour and was the point player for the Grizzlies holiday hospital gift presentations and also worked with the Ronald McDonald House during the holidays serving food to needy children.
OHL Accolades (Player)
OHL All-Rookie Team (1999)

OHL Rookie of the Year (1999)

OHL Second All-Star Team (2000),

OHL Top Scorer (2000)

Canadian Major Junior First All Star-Team (2000)

Memorial Cup Tournament All-Star Team (2000)
*************************