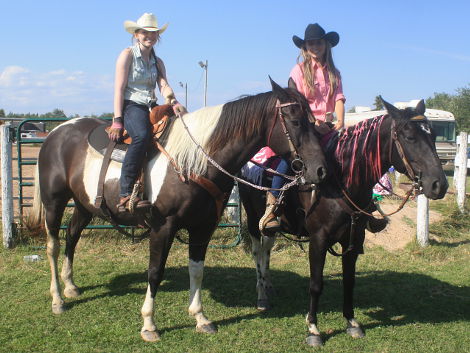 Lindsay Alisat loves her 5-year-old horse, Keeta (shown on the right) and it's obvious that the sentiment is returned.
Alisat and Keeta spend a lot of time together and have since Keeta was a foal.
That's why Keeta didn't mind standing still for the hours it took Alisat to braid the pink hairpieces and rinestones into Keeta's mane before the Laird Fair on Friday.
She decided on pink to match the pink, rinestoned and appliqued blanket Alisat also made for Keeta.
Keeta is stabled at Alisat's friend's ranch in Laird and Alisat is from the Sault.
Sharing a barn and the fields with Keeta are Tundra, Alisat's other horse, Countess, a 10-year-old mare belonging to Meagan Gjos (seen on the left with Countess) and several other horses.
Gjos is a long-time fair participant who started out riding ponies at Circle H Ranch when she was 5-years-old.
At six she started riding lessons and at 7-years-old Gjos was competing in barrel racing at the fair.
Her experience at Circle H taught her how to care for horses and eventually her family purchases some to keep on their farm in Laird.
Keeta and Alisat picked up fifth place in the Novis Dash for Cash on Saturday at the fair and announcer Joan Teresinski didn't need a registration paper or the sparkly pink rinestones to know both horse and rider when they stepped up to the gate for their turn in the competition.
Teresinski has been running the competitions for 20 years and she knows almost every horse and rider by sight.
She was assisted in the booth this weekend by Kelly Fremlin and Fremlin's 5-year-old daughter, Patricia Brumfield.
It takes a huge team to organize and run the fair every year and Teresinski says there's always room for more.
In fact, she's looking for someone to train to take her place.
Not to worry, though.
She says she's been trying to retire for a few years but keeps coming back to do what ever needs doing so there is no danger of losing the Speed Horse Show component of the fair.
The Laird Fair has been running every year since the 1880s and features agriculture displays, children's activities and live entertainment on Saturday evening as well as tractor pulls, horse shows and competitions.