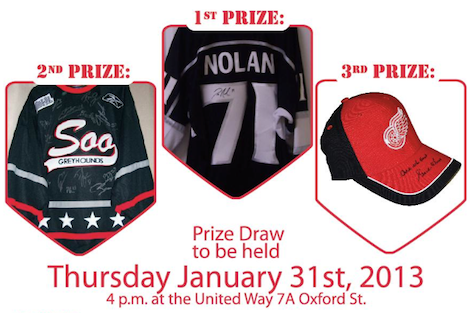 NEWS RELEASE
UNITED WAY OF SAULT STE. MARIE & DISTRICT
************************
Annual United Way Hockey Raffle
New locations to purchase hockey jersey raffle tickets!

Who will win the coveted prizes this year in the United Way Hockey Raffle?
With more locations to purchase tickets come more opportunities to win.

Tickets are available at the 4 Seasons Collectibles in the Station Mall (Scotiabank entrance) and the United Way, 7A Oxford St, from Monday-Friday between 9 a.m. and 4 p.m.

Tickets will also be made available for purchase at Soo Greyhounds games at the Essar Centre, 269 Queen St. E. during the dates below:

- Saturday, December 29 - Soo vs. Niagara: 7 p.m. start
- Monday, December 31 - Soo vs. Saginaw: 4 p.m. start

This year we are proud to present three great prizes for our community to make a power play for:
• 3rd prize: Gordie Howe autographed ball cap - valued at $199
• 2nd prize: 2012 Authentic Soo Greyhounds team jersey - team autographed - valued at $350
• 1st Prize: Replica Jordan Nolan #71 LA Kings Stanley Cup jersey- autographed - valued at $300

Raffle tickets are $2 each or 3 for $5; must be 18 years of age or older to purchase and redeem a ticket.

The draw date is Thursday January 31, 2013, at 4 p.m. at the United Way office, with no chance of overtime.
Pick up some tickets for the super-fan in your life and give them a chance at a late Christmas gift!

The United Way Hockey Raffle is proudly sponsored and supported by the Soo Greyhounds and Jordan Nolan.
*************************