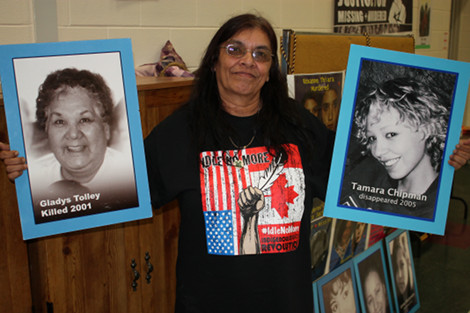 Gladys Radek has had an enormous amount of tragedy in her life.
Her story of survival, strength and fighting spirit against racism and injustice captivated an audience at the Indian Friendship Centre on East Street Sunday afternoon.
Radek, a 58-year-old aboriginal woman who hails from B.C. and now resides in Gatineau, Quebec, suffered from racism, sexual assault and had one of her legs amputated at 18, the victim of a hit and run accident.
She walks with the help of a prosthetic limb.
In the courts, she has successfully battled racist behaviour shown toward her by security guards at a Vancouver mall, and against a man who abused her.
In addition, Radek has been involved in a struggle for the past several years to find out what happened to her niece, Tamara Chipman, a 22-year-old stay-at-home mother who went missing in 2005 while hitchhiking along B.C.'s Highway 16, a 700-kilometre stretch of road between Prince George and Prince Rupert.
Numerous women have been murdered on, or gone missing from, that road over several decades, making it known as "The Highway of Tears."
"I feel at a loss because there are no answers as to where Tamara is," Radek told SooToday.com.
"When I look into my brother's eyes, I feel his pain. I feel bad because her little guy is being raised without a mother."
Radek is with Families of Sisters in Spirit, an Ottawa-based group in an ongoing struggle to convince the federal government and the RCMP to launch serious, intensive investigation of numerous unsolved cases of murdered and missing women in Canada, most of them aboriginal.
She travels the country in a van covered with photos of the murdered and missing to raise awareness of her campaign.
Radek is also a co-founder of Walk4Justice, a group that has held several long-distance walks to raise awareness of injustice against aboriginal and non-aboriginal women.
Since 2008, Radek has done five walks, accompanied by supporters, including a walk along The Highway of Tears from Prince Rupert to Prince George, B.C., along with two other courageous walks from Vancouver to Ottawa, Vancouver to Prince Rupert, and Kamloops to Winnipeg.
Radek organized four of those walks, and now plans to walk with supporters from Halifax to Prince Rupert, a 6,910 kilometre journey, beginning June 21, with a goal to arrive in Prince Rupert on September 21, the eighth anniversary of her niece Tamara's disappearance.
In the meantime, Families of Sisters in Spirit will hold a rally in Ottawa February 14 near Prime Minister Stephen Harper's office to raise awareness of their concerns.
Referring to The Highway of Tears area, Radek says "it's very secluded up there, a lot of reserves in that area. People live there and it costs money to get from one place to another. We're talking about young people who can't afford a vehicle (who go missing)."
The RCMP, at first, officially listed nine women murdered or missing in The Highway of Tears area, then 18.
That remains the official RCMP figure.
However, Radek says her own research shows 45 women have gone missing from that area, and she estimates about 3,000 aboriginal women have gone missing across Canada over the past four decades.
The females range widely in age, but many of them are between the ages of 14 and 24.
Some of the B.C. women were victims of Robert Pickton and other convicted killers.
However, most cases remain unsolved.
The RCMP has classified many of the 18 murdered and missing in The Highway of Tears area as having been in "high risk" situations (involved in prostitution, for example), and as a result have done very little follow-up in investigation of the murders and disappearances of aboriginal women in Canada, Radek says.
Many of the victims were not high-risk individuals, Radek stated.
She pointed to the example of one victim who was enthusiastically pursuing a postsecondary education, and another who was a young woman eagerly looking forward to working two summer jobs.
Out of the original nine who were listed by police as missing from The Highway of Tears area, there still five deaths unsolved and four still missing, Tamara Chipman included.
As the struggle goes on to get the RCMP to investigate the many murders and disappearances, has there been any change in attitude from the RCMP?
Radek says "absolutely not, they're still in denial," describing the RCMP's reluctance to further investigate the murders and disappearances of aboriginal women as nothing short of "genocide."
"When I talk to the RCMP at meetings, they just look at me and say 'where did you get your research?'
Radek says Walk4Justice walkers have been the targets of harsh verbal attacks as they have travelled the country, saying there is a long way to go to eliminate racism, sexual harassment and in the fight to find out what has happened to so many aboriginal women.
Undaunted, Radek says "We want accountability, justice, closure and equality."