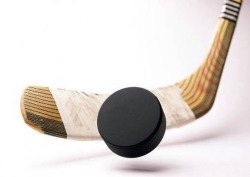 Both high school hockey quarter-final series are in the books after action on Wednesday night.
In Wednesday's early game, Superior Heights completed a two-game sweep of the White Pines Wolverines thanks to a 3-2 overtime win. Nathan Elgie scored for Superior Heights at 6:11 of overtime as a White Pines penalty to Tate Sears expired to give Superior Heights the win.
The win came after Jake Sayers tied the game for White Pines in the third period. The two teams traded goals through the opening two periods. Kyle Vanderburg opened the scoring for Superior Heights in the first period while Jamie Kamzol of White Pines and Quinn Barban of Superior Heights traded second period goals prior to Sayers' game-tying goal in the final stanza.
Kamzol finished the night with a goal and an assist in the loss.
With the win, Superior Heights capped off a two-game sweep of White Pines.
Wednesday's other game saw Jonathan Colombi convert a chance in tight to give St. Basil a 5-4 win overtime victory over the CASS Huskies to cap a two-game sweep and advance. The goal came after CASS had an earlier goal waved off due to being deflected in by a high-stick. The Huskies also had an earlier chance when Bryce Campbell hit the crossbar just under two minutes into the overtime frame.
Mario Taranto had a goal and two assists for St. Basil in the win while Colombi had a goal and an assist. Paolo Bruni, Josh Fisher and Taylor Lamorie also scored for the Saints.
Matthew Keenan had two goals and two assists for CASS in the loss. Campbell chipped in with a goal and two assists while Clancy Neal added a goal and two assists for CASS.
Both high school hockey semi-final series' kick off on Sunday evening. St. Basil advances to the semi to take on St. Mary's in the early game, beginning at 5:30 p.m.
Superior Heights will take on Korah in the other semi-final series beginning shortly after 7 p.m. on Sunday.
Both semi-final series open at the Essar Centre on Sunday with the league awards presentation expected to take place between games.