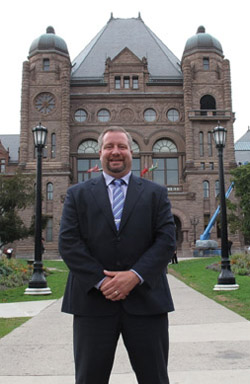 NEWS RELEASE
NDP COMMUNICATIONS
*************************
Provincial Industrial Energy Rate changes too late to save hundreds of thousands of jobs: NDP
QUEEN'S PARK – Northern Development and Mines Critic Michael Mantha [shown] is questioning why the McGuinty government is spending time re-announcing an energy program originally announced in June when good-paying Northern jobs continue to be threatened by high hydro prices.

"Under the McGuinty Liberals' watch, over 300,000 good-paying manufacturing jobs have been lost along with 50,000 forestry jobs in Northern Ontario," said Mantha, MPP for Algoma-Manitoulin. "So the question you have to ask is why is this government re-announcing a program it originally announced six months ago when it should be rolling up its sleeves and protecting jobs today?"

Ontario's Energy Minister is currently re-announcing a June 2012 announcement of a new industrial electricity rate program.
New Democrats have long supported an industrial hydro rate which would make operating in Ontario more economically competitive.

Mantha cited the loss of 700 good-paying jobs at Xstrata when it closed its Timmins copper and zinc smelting operations a few years ago because Ontario hydro prices were uncompetitive with Quebec's.

"Job losses are devastating news to communities that has already seen numerous job losses across the entire North. The tragedy of it all is that it could have been prevented if this government had simply heeded the NDP's call years ago for an affordable hydro rate for energy intensive employers," said Mantha.

*************************