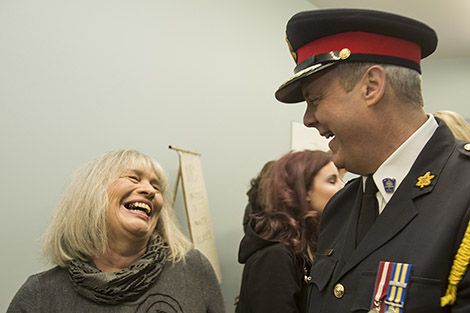 Sault Ste. Marie Police Service Chief Bob Davies has a bold prediction for Gore Street, which includes new businesses opening up and the area losing it's bad reputation for crime and addiction.
He kicked off Police Week with the opening of the new Community Resource Centre on Gore Street Monday morning.
"Our traditional role of policing was reactive, to attend and either arrest or keep the peace and move on to the next call. This is a lot different, what we are asking our officers to do," said Davies.
The centre will act as a hub for various community agencies to provide services for people in the area, which include Ontario Works, Chidren's Aid Society and Canadian Mental Health Association, said Davies.

The Sault Ste. Marie Police Service will contribute by having an officer assigned full-time to patrol the area.

A survey conducted by the NORDIK Institute at Algoma University using Sault Ste. Marie Police Service data discovered that approximately 75 percent of the 911 calls to the Gore Street area were not to report robberies or assaults, but prostitution, mental health issues and addiction, said Davies.

Davies said police resources were being used when social agencies may be a more appropriate response, which required a shift in thinking to react to the problems in the area.

Davies hopes to keep the same officers working the area and they will get to know the people and recognize the issues that come up regularly.

Joanne Denis, who owns Doggy Styles pet grooming directly next door to the Community Resource Centre is happy to see a permanent police presence on the street.

Denis, who also lives in the area, said she has high hopes that the area gets cleaned up.

"I've had my windows broken. My windows are caged in now," said Denis, who attended the opening with her blue-haired Imperial Shih Tzu named Sable.

Many residents and business owners wanted to see a storefront police station with officers patrolling up and down Gore Street, said city councillor Pat Mick, but she notes that this is a different approach.

"It's really good to see participation from all of the agencies that are helping us out, and people from the neighbourhood," said Mick.

Chief Davies agrees that participation from the local residents and business owners was an important aspect of the project.

"We knocked on doors, introduced ourselves and told them what we were going to do," said Davies.

More importantly, Davies said, the police listened to the locals and plan to meet with them in the future on a regular basis to discuss the progress of the project.

He said he hopes the result will be a sense of safety and security for the residents and business owners and an overall reduction in calls to the police, freeing up valuable resources.
(PHOTO: Community engagement researcher Calna McGoldrick shares a laugh with Sault Ste. Marie Police Service chief Bob Davies during the opening of the Community Research Centre on Gore Street May 12, 2014. SooToday.com/Kenneth Armstrong)