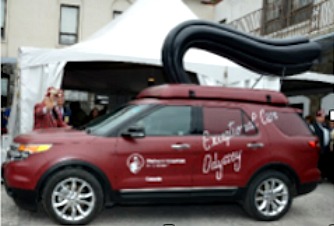 NEWS RELEASE
SAULT SHRINE CLUB
*************************
The Sault Shrine Club will be hosting The Exceptional Care Odyssey on June 16, 2014 at 3 p.m. at the empty parking area south east of the Civic Centre.
The Public is invited to come and see this vehicle which is a Ford Explorer outfitted to represent a Shriners Fez.
It is travelling 17,000 km across Canada and visiting 55 cities with Sault Ste. Marie being fortunate enough to have been selected, to raise awareness of the new Shriners Hospital being built in Montreal.
To Date $115,567,961 of a 130,000,000 target has been raised.
About Shriners Hospitals
Shriners Hospitals For Children is a network of 22 non-profit hospitals across North America.Children with orthopedic conditions, burns, spinal cord injuries, and cleft lip and palate are eligible for care and receive all services in a family-centred environment, regardless of the patient's ability to pay.
*************************