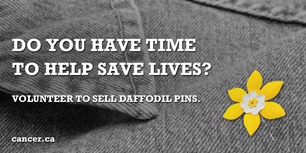 NEWS RELEASE
CANADIAN CANCER SOCIETY
ALGOMA OFFICE
*************************
The Canadian Cancer Society is pleased to present a free presentation to the public.
Join us on Wednesday, April 23, and hear from one of the Canadian Cancer Society's funded researchers and learn about the impacts we are making in cancer research.
Come and hear what cancer research involves, the progress that has been made and what the future holds.
Learn about the services available in our community and why the Canadian Cancer Society is your best partner in the fight against cancer.
Come out and see how the support you provide as a community is helping those touched by cancer.
There will be a presentation by Cancer Researcher and Sault Native, Lisa Porter PhD at the Grand Theater, 641 Queen Street.
Doors open at 6:30 p.m., and the event will be from 7 p.m. - 9 p.m.
The presentation is completely free.
Refreshments will be served, with a cash bar.
For more information call Carly Brown at 705-253-4781, or e-mail at algoma@ontario.cancer.ca.
About the Canadian Cancer Society, Ontario Division
The Canadian Cancer Society is a national community-based organization of volunteers whose mission is the eradication of cancer and the enhancement of the quality of life of people living with cancer.
When you want to know more about cancer, visit cancer.ca or call our toll-free, bilingual Cancer Information Service at 1 888 939-3333.
*************************