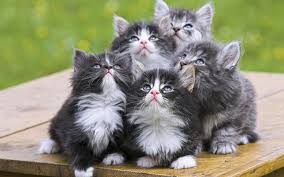 NEWS RELEASE
THE ANIMAL ASSISTANCE GROUP
*************************
The Animal Assistance Group (TAAG) has been working for more than 25 years with the same mandate; to help curb the overpopulation of pets in Sault Ste. Marie, by helping low-income families to have their pets spayed and neutered.
They also have spayed and neutered many animals that were surrendered to them or were taken in because they were homeless.
Their policy is no-kill unless the animal in question is extremely injured or very ill.
TAAG is a non-profit organization which operates entirely on donations, the support of many local businesses, veterinarians, fundraising, and several dedicated, hard working volunteers.
In March, the building where the shelter for TAAG currently operates is being sold and TAAG is looking for another location to be used as a shelter and a place to keep several cats until they find their forever homes.
If anyone has information about a building where TAAG could operate from, please contact Cheryl Alberta at 705-575-7030 or 705-975-0007 (cell).
In the past year alone, TAAG has adopted out 230 cats and kittens.
They spent $17,108 on helping low income families with spaying and neutering and $24,892 for the spaying/ neutering, medical expenses, and food for all of the cats in their care.
In 2013 TAAG ramped up their Trap, Neuter and Release program.
They have put out 22 feeding stations throughout the city where feral cats can come to eat, drink and find shelter from the cold weather.
At these locations there are feral cats (TAAG President Cheryl Alberta says there are many feral colonies).
TAAG will set out to capture them, have them fixed and then be returned to where they live, outside.
In the case of female cats, some may be pregnant or have given birth, these cats will be caught, allowed to nurse their babies, and then will be spayed before being released.
TAAG volunteers will then foster and work with the kittens so that they can be socialized and eventually adopted out to loving homes.
Sometimes a cat is just homeless and can be re-socialized and placed back to a permanent loving home, which is the case in a few cats they have trapped recently.
Feral cats do not make good pets.
They are used to living outside and are like other wild animals in that they are not and cannot be domesticated.
TAAG always promotes the importance of spaying and neutering your pets.
One female cat, allowed to breed, can in the end be responsible for thousands of kittens over her lifetime when you take into account that every kitten she has, will itself go on to breed and the cycle doesn't end.
No one likes to hear about animals being euthanized, but the sad fact is that thousands of good animals are put down every year just because there are too many to find homes for.
TAAG would like to thank all of those people who have generously donated to their cause, and hope that people will continue to donate so that the good work that The Animal Assistance Group has achieved, can continue.
Please watch for upcoming fundraisers, and participate if you are able.
*************************