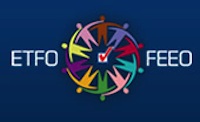 NEWS RELEASE
ELEMENTARY TEACHERS' FEDERATION OF ONTARIO
*************************

TORONTO (February 25, 2013) - With the eyes of the world on Canada, the historic Canadian Human Rights Tribunal starting today will hopefully bring a resolution to the inequality faced by First Nations' children in education and other basic human rights.

"We commend the First Nations Child and Family Caring Society of Canada and Executive Director Cindy Blackstock for bringing this case forward," said Sam Hammond, president of the Elementary Teachers' Federation of Ontario (ETFO). "This is a 'teachable moment' for students and all Canadians to learn about, and support, the need for First Nations' on-reserve children to have the same rights that all other Canadian children enjoy when it comes to education, health, housing, and other social supports."

The Caring Society has filed a human rights complaint against the federal government, alleging that Canada's failure to provide equitable and culturally-based child welfare services to First Nations' children on-reserve amounts to discrimination on the basis of race and ethnic origin.
Should the tribunal decide in favour of the First Nations' challenge, it has the authority to order the federal government to remedy the inequities that First Nations face.

Speaking at an ETFO conference on social justice last week, Cindy Blackstock told participants that "hopefully it will be the last day that First Nations' children will have to sit in the back of the bus when it comes to the inequality they face."
Blackstock will be the first speaker at the tribunal.

ETFO has sent information to its 76,000 members on how to follow the case by signing up to be a witness at
The website also has teaching resources for elementary students.

Since 2005, ETFO has supported the Lieutenant Governor's Summer Literacy Initiatives for isolated First Nations' communities.
Along with being a key sponsor of the Right To Play Youth Leadership Program in 35 First Nations' communities, the Federation has also contributed to Shannen's Dream, a movement to build proper schools on First Nations' reserves.

The Elementary Teachers' Federation of Ontario represents 76,000 elementary public school teachers and education professionals across the province and is the largest teacher federation in Canada.
*************************